Trump Sr. Advisor AJ Delgado Says 'Pussy' Tape Is Only Trump 'Using Hyperbole'
'He says when you're famous women let you do that. I think that's probably true.'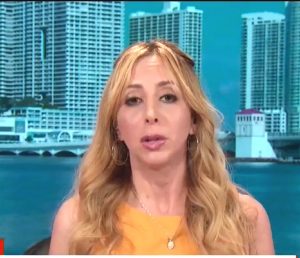 Trump senior advisor A.J. Delgado advised viewers to watch for themselves the 2005 tape of Trump boasting about assaulting women. Trump was plainly "using hyperbole," she said, and the media had distorted the meaning of his words.
MSNBC's Andrea Mitchell pressed Delgado on the fact that Trump can be heard saying that when he sees beautiful women, he kisses them and can grab them by the genitals without permission and gets away with it because he's famous. Delgado replied that Trump was absolutely correct that famous men could get away with such behavior.
"He says when you're famous women let you do that. I think that's probably true," Delgado said. "He's not saying he goes around doing that."
Delgado alleged that the tape had been "distorted" to make people think that Trump was suggesting he had actually done these things. Other Trump surrogates have insisted that Trump was not speaking literally in the tape, and in the presidential debate Sunday Trump told Anderson Cooper that he had never behaved in the manner he described in the tape. Several women subsequently came forward with accusations that Trump had groped and inappropriately touched them without consent over the decades.
Delgado argued further that Trump was "speaking using hyperbole with another guy about what women let a famous well known playboy New York guy get away with. 'Let' being the operative term, by the way, so this isn't something that he was doing — if he was — without anybody's consent."
"It's a shame that tape is being distorted," she said.
(Delgado is a former Mediaite columnist.)
—
Sam Reisman (@thericeman) is a staff editor at Mediaite.
Have a tip we should know? tips@mediaite.com