'Y'all Are Filibustering!': Trump Surrogate Goes Off About God's Plan, Benghazi, and More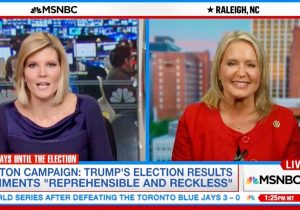 Now this is a good cable news clip. It has it all: An unprompted reference to Benghazi, a little Homily Lite about respecting God's plan, and a confident refusal to admit that Donald Trump saying he wouldn't necessarily accept the election results is a big deal. MSNBC's Kate Snow looked pretty gobsmacked the entire time.
Here, watch this video of Congresswoman Renee Ellmers — whose name you know because Clay Aiken called her a bitch, Jake Tapper corrected her, she was caught on camera telling a friend she gained too much weight, and she has shared her belief that men have a higher comprehension level than women — starting off her hit by telling Snow that when it comes to Trump's disinterest in committing to accept the results of the election, "y'all are filibustering on this one!" and mentioning that the audience at a Trump rally loved his joke about accepting the results if he wins:
After that, Snow pointed out that when Ellmers said "y'all," she was talking about the media, but the GOP has been denouncing Trump's statements, too. Ellmers laughed and intermittently yelled out, "Washington! Washington!"
She pivoted then to talk about how she didn't like Hillary Clinton's debate performance last night and she even mentioned Benghazi, but it was her explanation of why she herself accepted the results of an election that she lost that stood out:
I believe that yes, it is always the way to go when you are in a situation. I lost a special election primary and I conceded bc I believe wholeheartedly that, you know, there's a plan for all of us and God has a plan and I will follow that plan but this is an election unlike any election.
So, God's plan is fine to follow during elections that are like other elections, but in elections unlike any other election, God's plan is more of a suggestion.
She also claimed that it's fine for Trump to speak about his concerns regarding voter fraud because John Kerry called the 2004 election rigged.  Snow immediately interrupted with, "John Kerry did not say that. John Kerry did not use the word rigged!"
Ellmers was unfazed and insisted that yes, he said it. Snow responded that she covered Kerry in 2004 and had no recollection of such a thing.
Watch the entire thing above. Stick around for Ellmers' reference to "all the informations out there."
We haven't seen this many topics hit in such a short amount of time since…two weeks ago.
[image via screengrab]
Have a tip we should know? [email protected]