#TrumpBookReport: Twitter Rips Trump's Debate Performance With a New Mocking Hashtag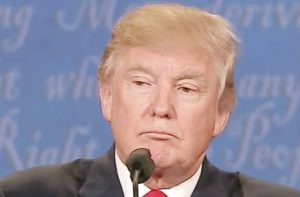 You know how this works. Donald Trump says something strange or controversial, Twitter mocks him for it, Queen to D5.
The real estate mogul had his final debate against Hillary Clinton last night, and when he wasn't being open-ended on whether he'd respect the results of the election, he tried going toe-to-toe with her on the issues. Unfortunately, Trump's performance left something to be desired, and quite a few debate watchers felt that his command of policy paled in comparison to Clinton's.
Numerous Trump critics thought that he seemed so unprepared, that it was like watching a schoolchild give a book report when he clearly didn't do his homework. The online trends seemed to begin after this tweet from St. Louis mayoral candidate Antonio French:
Trump's foreign policy answers sound like a book report from a teenager who hasn't read the book. "Oh, the grapes! They had so much wrath!"

— Antonio French (@AntonioFrench) October 20, 2016
From that tweet, #TrumpBookReport came into being. Aside from questioning Trump's political intelligence, Twitter users used the hashtag to imagine what it would be like to get Trump's take on the literary classics.
"TO KILL A MOCKINGBIRD? Believe me-if those mockingbirds had guns they wouldn't have been killed."#TrumpBookReport

— Gloria Bernstein (@GloriaBB2) October 20, 2016
Uncle Tom's Cabin, worst cabin in the inner city. Terrible schools. Nasty women & bad hombres everywhere. @AntonioFrench #trumpbookreport

— Melanated Soul (@RealMotha4Ya) October 20, 2016
That Giving Tree was a loser. It gave and gave and gave. Horrible deals. Ends up a stump. Schmuck. #TrumpBookReport

— Warren Leight (@warrenleightTV) October 20, 2016
"When District 12 sends its people, they're not sending their best. They're sending Katniss Everdeen. What a nasty woman."#TrumpBookReport

— Jen-O-Lantern (@Pop_Reader) October 20, 2016
Lolita? In six years, I'll be dating her.#TrumpBookReport

— Jennifer Senior (@JenSeniorNY) October 20, 2016
Look, I don't know Voldemort. He said nice things about me. If we got along with the Death Eaters, wouldn't be so bad. #TrumpBookReport

— big nose betty (@mayapraff) October 20, 2016
"We're gonna catch so much rye, you won't believe it. We're bringing those rye catching jobs to America." #TrumpBookReport @AntonioFrench

— Steve McPherson (@steventurous) October 20, 2016
Anne Frank. What a loser. And she got caught. I like refugees that weren't caught. Okay? #TrumpBookReport

— Jake Turx (@JakeTurx) October 20, 2016
"Gatsby didn't win at anything. He was a loser in love, a loser at…he was a loser. I'll make Gatsby great again." #TrumpBookReport pic.twitter.com/XCzguafKAC

— Huffington Post UK (@HuffPostUK) October 20, 2016
Dracula never attacked those women. No proof. Did you see what they looked like. Anemic for sure. #TrumpBookReport

— Marius Strydom (@Marius_Man) October 20, 2016
I was against the war in Troy. Ask Hannity. And Helen was maybe a 6. She wouldn't have been my first choice, believe me. #TrumpBookReport

— Bent S. Sinister ? (@BrentSirota) October 20, 2016
When you can't even listen to your classmate share their work because you already finished yours, aced it, graduated early. #TrumpBookReport pic.twitter.com/Sulgd6XlMV

— Kameron (@kamerontyler) October 20, 2016
[Image via screengrab]
— —
>> Follow Ken Meyer (@KenMeyer91) on Twitter
Have a tip we should know? tips@mediaite.com