Trump Surrogate, Sheriff David Clarke, Also Apparently Has Powerful Friends in Russia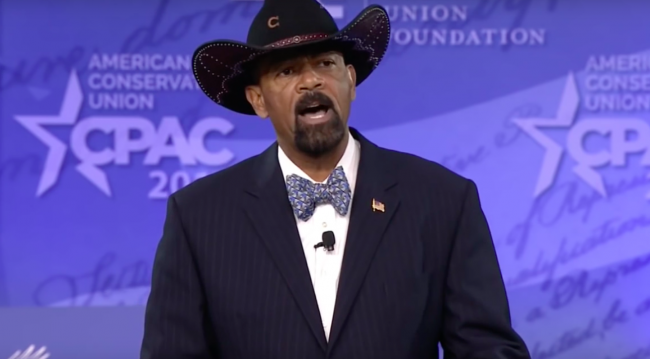 Donald Trump's young presidency just cannot seem to outrun Russia.
Frequent surrogate and law enforcement booster, Milwaukee Sheriff David Clarke, visited the country in 2015 and met with the Russia's Foreign Minister and a Deputy Prime Minister. Clarke posted an image of himself with a Russian military officer to Twitter during the trip.
Red Square near the Kremlin with a Russian officer. Met earlier with Russian Foreign Minister who spoke on Mid East. pic.twitter.com/ZcDdQB65lb

— David A. Clarke, Jr. (@SheriffClarke) December 10, 2015
According to reporting from the Daily Beast, Clarke, along with a delegation from the National Rifle Association visited Dmitry Rogozin, a Russian Deputy Prime Minister, who was currently under sanctions from the United States government.
The meeting wasn't necessarily illegal, or even very secret. Rogozin, himself, tweeted some joint group photos.
National rifle association ознакомилась с планами организации в 2017 г. в РФ Чемпионата мира по стрельбе из карабина pic.twitter.com/UOSlCI3vAy

— Дмитрий Рогозин (@Rogozin) December 12, 2015
"It is disconcerting that they would be meeting [with a Russian official] about anything given their vocal support of the president," Rep. Mike Quigley, a member of the House Intelligence Committee, told the Daily Beast. Quigley's committee is currently investigating Russian meddling in the 2016 presidential elections. "Due to the NRA's opposition to sanctions, it defies credulity that they wouldn't have discussed sanctions and their extraordinary support for Donald Trump's campaign."
According to a financial disclosure Clarke was required to fill out, the trip was paid for, at least in part, by the Russia-aligned organization The Right to Bear Arms.
The Clarke news comes after revelations of Attorney General Jeff Sessions undisclosed meetings with Russia's Ambassador to the United State, Sergey Kislyak. Secretary of State Rex Tillerson was also once awarded Russia's Order of Friendship by Vladimir Putin while serving as CEO of ExxonMobil.
[image via screengrab]
Have a tip we should know? tips@mediaite.com