Trump Taps Outspoken White Nationalist to Be One of His California Delegates (UPDATED)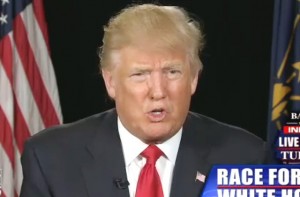 Donald Trump has selected one his most ardent, outspoken supporters, who happens to be a prominent white nationalist, to be one of his California delegates.
According to a report in Mother Jones by Josh Harkinson, Los Angeles-based attorney William Daniel Johnson on Monday officially became one of Trump's 169 delegates in California after signing the pledge his campaign sent him.
The pledge was: "I, William Johnson, endorse Donald J. Trump for the office of President of the United States. I pledge to cast ALL of my ballots to elect Donald J. Trump on every round of balloting at the 2016 Republican National Convention so that we can MAKE AMERICA GREAT AGAIN!"
Johnson has previously spoken of his desire to create "a white ethno-state" since "that's the only way western civilization and the white race will survive."
He is the leader of the American Freedom Party, which was "initially established by racist Southern California skinheads," and "aims to deport immigrants and return the United States to white rule," according to the Southern Poverty Law Center.
Johnson has been one of Trump's most notable supporters this campaign cycle. The AFP's Super-PA sponsored robocalls to voters throughout the cycle. One said, "We don't need Muslims. We need smart, well-educated white people." Another said: "I am a farmer and a white nationalist. Support Donald Trump." Another said: "The white race is being replaced by other peoples in America and in all white countries. Donald Trump stands strong as a nationalist."
Trump disavowed the calls but chalked them up to people being angry. In February he was confronted at a New Hampshire event with the fact that Johnson donated $250 to his campaign."I would certainly return it if you think it is appropriate," Trump said at the time, and his campaign refunded the money a few weeks later.
Speaking to Mother Jones, Johnson said, "I just hope to show how I can be mainstream and have these views."
"I can be a white nationalist and be a strong supporter of Donald Trump and be a good example to everybody," he added.
[h/t Mother Jones]
—
UPDATE — 6:15 p.m. ET: Time reports that Trump's campaign has said Johnson will not be a delegate. A campaign spokesperson attributed his inclusion on a list of delegates sent to the California Secretary of State to a "database error." He had been removed from a list of potential delegates in February, the spokesperson said.
Have a tip we should know? tips@mediaite.com