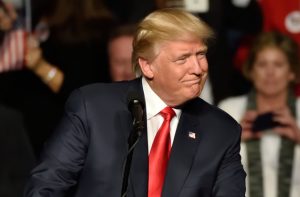 From the campaign trail to the Oval Office, Donald Trump is consistently flipping the script. And as of this week, as his feud with Senate Majority Leader Mitch McConnell and most recently, again, House Speaker Paul Ryan, only continues to escalate, Trump is showing just how baseless stereotypes about women being the petty, dramatic ones, are.
If this were the classic, 2004 coming-of-age movie Mean Girls, Trump would be Regina George and his Twitter page, the "Burn Book."
Trump has always been at least vaguely at odds with McConnell and Ryan, the faces of the Republican "establishment" — a body of political leaders whom Trump brutally attacked on the campaign trail. Upon winning the election, Trump embraced them for the sake of party unity, but the two men — most notably Paul Ryan — have consistently been put into positions in which they are forced to denounce the latest rude tweet by Trump.
Meanwhile, Trump has unfailingly been present to deliver attacks both subtle and overt at the men when they fail to deliver on bogus legislative campaign promises Trump made. In April following the first failure of the American Health Care Act in the House, Trump tweeted for his followers to watch a Fox News segment in which the host called for Ryan to step down.
And this week, in the weeks following the GOP health bill's death in the senate, it was reported that Trump and McConnell have not spoken since engaging in a heated, profanity-laced phone call on Aug. 9. Since that date, McConnell has sharply rebutted Trump's statement that some of the attendees of the white supremacist rally were "good people," and also defended the media in the wake of escalated attacks by Trump against negative coverage of him — or what he calls "fake news."
Trump has, in turn, taken to Twitter to sweepingly blame the failure of his health care agenda on McConnell, and criticize McConnell for breaking a seven-year promise.
The only problem I have with Mitch McConnell is that, after hearing Repeal & Replace for 7 years, he failed!That should NEVER have happened!

— Donald J. Trump (@realDonaldTrump) August 24, 2017
All of this has taken place amidst a high stakes debate between Trump and McConnell and Ryan over the debt ceiling, and while Ryan all but shrugged off Trump's tweets criticizing him as irrelevant.
It's important to remember that none of this is normal, and it certainly isn't in line with normal and traditional expectations about who the people getting into social media feuds and petty workplace battles are. The idea that women are the melodramatic and perpetually feuding and exaggerating ones has always been used to dismiss the things women have to say or even undercut them in the workplace. In turning this gendered stereotype over on its head, Trump might just be doing the first service for women of his whole presidency.
This is an opinion piece. The views expressed in this article are those of just the author.