Trump's Labor Secretary Pick Testified Before Congress Defending Muslims' Civil Rights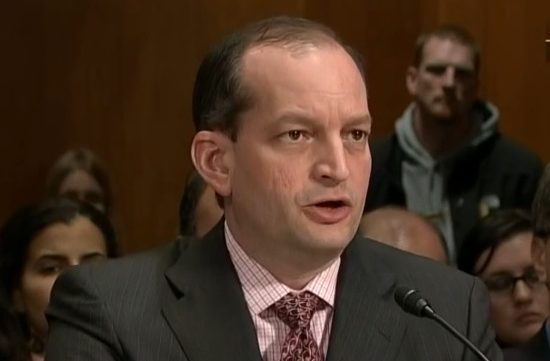 President Donald Trump's newest pick for Labor Secretary has a long history of defending the civil rights of Muslim-Americans, and testified before Congress against of singling them out for punishment.
Alexander Acosta served as Assistant Attorney General under George W. Bush, serving as the administration's top civil rights official. In that capacity, he often defended the civil rights of Muslim individuals. In 2004, for example, he instructed the Department of Justice to intervene when an Oklahoma high school tried to force a female student not to wear a headscarf. He also pushed litigation against the New York Metropolitan Transit Authority when they tried to keep employees from wearing headscarves.
After he leaving the administration, Acosta became Dean of Florida International University Law School. But he returned to Washington in 2011 to testify on the need to protect the rights of Muslims-Americans. The hearing in question was set up by Democratic Senator Dick Durbin, and was widely seen as a rebuttal to Republican Congressman Peter King's concurrent hearings into the threat of homegrown Muslim extremism.
Acosta began his testimony by citing the 2003 headscarf litigation, and by reading a letter from a Muslim student who joined the U.S. military.  "I speak about these two individuals because I think their stories highlight principles that make our nation great. The first of these principles is that foremost we are all Americans," he testified.
Acosta also spoke about the need to meet and heed the concerns of the Muslim community. "These efforts following 9/11 were important. They set a tone. They reminded those who might be tempted to take out their anger on an entire community that such actions were wrong. They helped assure Americans… that their government would act to protect their rights," he testified.
"Emotions remain charged, and the desire to blame remains high," he testified. "Now is good time to remember that no community has a monopoly on any particular type of crime. Now is good time to temper resolve with wisdom and to uphold our principles, as our former President did on September 17th. "
Acosta's rhetoric from 2011 stands in stark contrast to the president who just appointed him. During the presidential campaign, Trump spoke about the need for a "Muslim ban" and falsely accused thousands of Muslims of celebrating the 9/11 attacks. Most recently, the Ninth Circuit Court of Appeals blocked Trump's executive order banning travel from seven majority-Muslim nations, finding that it was likely drafted out of unconstitutional malice towards Muslims.
[image via screengrab]
——
>>Follow Alex Griswold (@HashtagGriswold) on Twitter
Have a tip we should know? tips@mediaite.com