Don't Touch My Junk Part II: TSA Makes 95 Year-Old Woman Remove Adult Diaper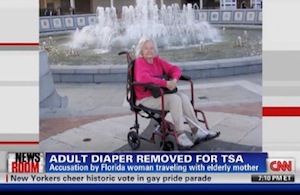 Late last Fall, the nearly bipartisan outrage directed towards the TSA and their new policy of aggressive pat-downs was at a fever pitch, with various and absurd examples young kids getting searched, even spawning a "don't touch my junk" meme. But perhaps because the holiday travel season had passed, the tide of outrageous reports ebbed, and so did the anger towards the TSA. Well, if you are miss getting angry over outrageous and overenthusiastic TSA agents you are in luck! Be prepared for righteous indignation all over again, with the following report of a 95 year-old woman forced to remove her adult diaper.
Writing for the NY Daily News, Meena Hartenstein reports:
The agency came under fire after Florida woman Jean Weber claimed her 95-year-old mother was forced to take off her diaper for a pat down at the Destin-Fort Walton Beach Airport last weekend.

"It's something I couldn't imagine happening on American soil," Weber told the Northwest Florida Daily News.

"While every person and item must be screened before entering the secure boarding area, TSA works with passengers to resolve security alarms in a respectful and sensitive manner," the agency said in a statement Sunday. "We have reviewed the circumstances involving this screening and determined that our officers acted professionally and according to proper procedure."

The problem began when Weber and her mother were going through security and a TSA officer told them he "felt something suspicious" on the elderly woman's leg that needed to be checked in a private room.
Watch the CNN report below:
Have a tip we should know? tips@mediaite.com