Obama Impersonator Reggie Brown To Mediaite: 'Absolutely Ridiculous' To Be Called A Racist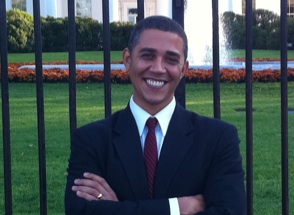 Barack Obama impersonator Reggie Brown first hit my radar in April, but with a much-publicized performance at the Republican Leadership Conference, he figures to be on many more screens in the near future. Initially accused (by liberal blogs) of telling "racist jokes," then by RLC President Charlie Davis of "racially insensitive jokes," the truth beyond those accusations has emerged. In an exclusive interview with Mediaite, Reggie responds to his critics, talks about his past and future, and issues a friendly challenge to fellow Faux-bama Fred Armisen.
My first glimpse of Reggie Brown was his "debate" against perennial GOP straw poll champ Ron Paul, using verbatim President Obama quotes. Engineered by Fox's John Stossel, I was struck by how sad the shadow-boxing spectacle was for Paul, but also by Reggie's spot-on impression of Obama. Weirdly, many of the blog posts about the "debate" didn't mention Reggie by name, identifying him only as an "Obama impersonator," and it took me a few minutes of googling to track him down.
That shouldn't be a problem for Reggie going forward (his 186 Twitter followers also figure to multiply). His performance at the Republican Leadership Conference catapulted him to molten-hot status in the perpetually overheated news cycle. Initially, his performance was panned, by liberal blogs, as "racist" and a "minstrel show,"  but as video emerged of an RLC organizer pulling Reggie off the stage when the jokes turned against Republicans, the narrative changed.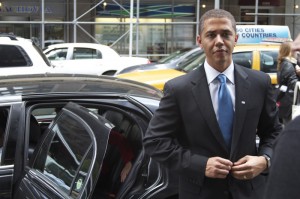 RLC President Charlie Davis pulled Reggie in the middle of a chuck about Republican candidates, but insisted that it was because of the "racially insensitive jokes" from earlier in the act. Reasonable people acknowledged that Reggie's racial jabs were mild, and not all that different from humor that the President himself has employed. The tide quickly turned in Reggie's favor, especially with those who have no ax to grind, politically.
Before joining William Gold Entertainment's "Politicos" impersonator troupe (along with Bill Clinton lookalike Tim Watters, Sarah Palin ringer Patti Lyons, and Tim Northern as Juan Williams), Reggie Brown was a regional Emmy-winning broadcaster in his own right, following a stint as a model. A native of Chicago, Reggie first learned of his resemblance to Barack Obama in 2001, from his brother, Lawrence, and others who told him "you look like my professor, you should google him."
It wasn't until 2008, though, that Brown turned his resemblance to Obama into a career, one which he describes as "the best job in the world."
Despite the whirlwind of attention surrounding him at present, Reggie Brown agreed to be interviewed by Mediaite, and even sat through a few minutes of technical delay, to allow our readers to get to know him better.
Throughout our interview, Reggie stressed the nonpartisan nature of his act, and shied away from politics in general, but he did offer his views on marriage equality, and spoke with obvious affection about the President. We talked about the RLC performance and its aftermath, but also about his career as an Obama impersonator, what he won't do for money, what he thinks of fellow FOTUS Fred Armisen, and some of his future goals:
Tommy Christopher: There were people on both sides of political spectrum who criticized you for being "racist" in your remarks. Do you feel like you've been thrown under the bus?
Reggie Brown: Well, to be called a racist is absolutely ridiculous, for one. To call my jokes racially insensitive I think is inappropriate as well. We work hard on my material and we feel that it's appropriate to deliver. I think it's something that the President himself has opened the door on by making cracks at the Correspondents Dinner… and I think he wouldn't feel offended by the material. My mother's white, my father's black, and I felt like I wouldn't do anything to offend the progress made by the black community over all these years or… you know, it's absolutely ridiculous to say that it was racist or racially insensitive.
TC: Did those reactions surprise you in any way? Did the RLC chairman's reaction surprise you?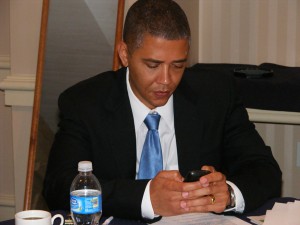 RB: Oh, of course. Upon going backstage after my performance, I had organizers saying to me, "Oh, you did a great job. You have the best spot-on impression," and being very complimentary. And then, I left feeling like I did a great job. The audience was laughing, they were enjoying the show and by the time I got back to my hotel there are already about 30 articles up saying, "Obama Impersonator Mocks President, Delivers Racist and Gay Jokes," and there wasn't one gay or racist joke in my material.
TC: What about the reaction from liberals? Did that surprise you?
RB: Well, I think that afterwards a lot of the statements that started to come out were in support of me because, in the beginning, people were just reading the articles and being like, "Oh my God" without watching the full piece, and then when people actually started to see the whole thing where I was going and how we hit one side and we hit the other and it was a well-rounded show. So all the responses I've been getting after the initial story hit have been very positive, overwhelmingly positive from all the different… I was just on the Tom Joyner Morning Show yesterday morning, which is one of the biggest… it reaches about 8 million listeners every morning… a lot of black listeners and…they were all laughing, saying it was funny, and we had a good time with it. So after people saw it, I think they kind of relaxed a bit, and I have Republicans getting my back, I have liberals, Democrats, and everyone in between saying, "Listen, he's a comedian, he was booked to do a job at a political event. He came and did his job, and that's the end of it." It wasn't my fault.
TC: A lot of people thought the reason you were pulled is because some of your jokes hit too close to home for the Republicans. Do you think that's accurate?
RB: Oh, yeah, of course. It wasn't because of the reasons they released initially, or else I would have been pulled a lot sooner.
TC: Has that ever happened to you before, where the audience…
RB: No, it's never happened before. I've toured all over the world, I just got back from Trinidad on a comedy tour, I was doing my presidential comedy. We performed for the troops, a big USO show in Guam, I just got back from Austria, and all over the United States performing for Republican clients, Democratic clients, and I've never been pulled offstage for the material that we deliver or I have delivered because we also do a three-person show with the Politicos… Patti Lyons is Sarah Palin, Tim Watters is Clinton, and never been pulled or had a reaction like this.
TC: I was watching some of the videos on your website, and I saw you did the same material for the USO. And this is the first time you've ever gotten criticism for it?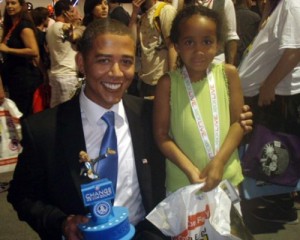 RB: Yeah, and it's not like this wasn't different routines for different audiences, and we tailor our scripts to meet the client, we do custom material. So for this, one of the top things in the news is the new Republican candidates that are popping up and we performed that for San Diego Republicans last month, and the material went over well, and then we just did it again, so my intent was not to outwardly offend anyone. I think the decision to pull me off was one or two individuals behind the scenes, the overwhelming response from the attendees…
I was walking with my manager back to his hotel to get picked up by a shuttle. I was wearing flip-flops, t-shirt, sunglasses and shorts, 'cause we were in Louisiana, it was hot as hell. And people were like, "Oh my God. Are you the Obama? Are you the Obama? Yeah he is!" And then everyone starts mobbing me for autographs, pictures, and everything in between and they're just saying, "Oh my God, why did they pull you off? You were the best part of this conference for us. You were amazing, your impressions are great."
I spent the rest of the day delivering some of the jokes for the people then I went back to my hotel room, and I got a call from the gentleman who actually pulled me off the stage, and he said, "Your presence is requested at the reception later," and so I showed up at the VIP cocktail and hors d'oeuvres reception after. And everyone from Dale Peterson from Alabama to everyone there in attendance was just saying, "You were amazing. Why didn't they let you finish? We want to hear the rest of your show."
They weren't happy I was pulled before my time was up.
TC: Was that before or after Charlie Davis made his comment about your material being racially insensitive?
RB: I'm not exactly sure when that happened because I was sieged by the whirlwind press tour and everything… we've been on tour, hopping flights, trains, and everything, so I haven't been able to keep up on all the articles that have been written, and after all my television appearances the other day it was good to see the commentary from a lot of different people that was actually supporting the appearance, and the content, and the material.
TC: What do you think about the way the issue of race is treated politically in this country? Do you think people throw the charge around too quickly, or not enough, or is it about right?
RB: I don't want to touch that one, no comment. I'm a comedian.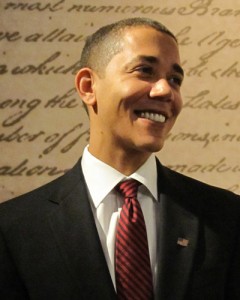 TC: What's an example of something you might do for a Democratic audience that you wouldn't do for a Republican audience?
RB: Well, it all depends. I mean, this was the Republicans, and we keep it fair pretty much the whole time, but if it was for a Democratic audience, we may do more self-deprecating jokes about the President, and also include a few more jokes about Republicans. When we do the Republican party, perhaps we include a few more about the Democratic party. But basically we keep everything balanced and that's why, no matter where you're at, even this event, there were a few Democrats, Tea Partiers, liberals, libertarians, and all different people in between, so we wanted to make the content relevant and applicable to everyone, and keep them all engaged throughout the show.
It's not like my Democratic shows will be like, "Oh, Republicans this, Republicans that," we still play it pretty fair, but most of the times I do corporate comedy which is for associations like the Northwest Indiana Medical Association or something like that to where we tailor our material with medical jokes, or if it's for an investment group there will be financial jokes, for a law group we'll do law jokes. So that's more of what we do, like the tailoring, when it comes down to political groups we pretty much stay in the middle.
TC: I noticed on your website that a lot of your appearances are either sort of neutral or conservative-leaning. What's the ratio of conservative groups that book you to liberal groups?
RB: Surprisingly, a lot of the business does come from the Republican end. You know, Tim Watters, who did the number one Clinton for years, he said that when he was "in office," that's how it goes. If there's a Democratic president in office, the Republicans will book you more. If there's a Republican president in office, the Democratic side will book you more. So, yes, from my experience it's been mostly… from the Republican side.
I mean, since this, with all the media attention, we've got a comedy tour that's started up, we have a DVD deal coming out, we have a reality show in the works that's finally about to get picked up, and it just drew attention to… I mean, a lot of times what I do for the corporate audiences is, it's such a kind of big contained market, where people know about you through speakers' bureaus and in the industry, but this kind of put me on the map as far as wanting the world to see what I do.
TC: What's the reality show about? Can you talk about who you're doing that for and what it's about?
RB: Well, we're still in the contract stage right now, but it would basically be following myself and the team all over, with our personal lives intertwined with our characters that we represent because it's such a unique experience for us.
When I am in character the response that I get from people and the reactions that I get and… there's nothing like it so far. It'll be the best reality show on television.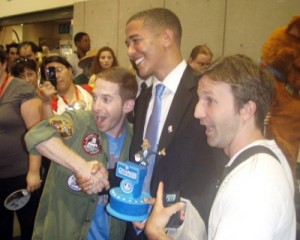 TC: Can you say who you're going to do the show for?
RB: No, that's all being finished up right now, so once they've finalized the contracts I'll be able to release that.
TC: Fair enough. Speaking of personal, what did you do before you were an Obama impersonator?
RB: I've been all over. I was in the hospitality industry for 15 years, I love food and my end goal was to open a restaurant and also have a lifestyle or cooking channel on a network. I won… I was working for NBC 5 Chicago as part of a street team back in 2008, and we won our first Emmy for our coverage of Looptopia. I was also hosting a local show on Akira TV in Chicago, it was kind of fashion TV. I wanted to take my knowledge of food, combine that with my broadcasting talents, and have my show. Then everyone was so compelled to tell me I look like the president. "Oh, you've got to give it a shot, you've got to try." My best friend Dan was like, "Reg, you really should think about this." I did, I put the tape out, and it pretty much changed my life and the course of my career.
TC: Do you think you might go back to food?
RB: Oh yeah. I mean, I'm gonna do this for as long as I can. I have the best job in the world right now. I'm able to travel, see the world in ways most people never get the chance. It's such a unique opportunity, it's more likely you're going to get struck by lightning or win the lotto than be able to have this striking physical resemblance to the most powerful man on the planet, and turned that into… I combined that with my talents to create a show and a character that makes people laugh all over the world. So I just hope that, now that we're out there, people know how to get ahold of us and the bookings, the phones have been ringing off the hook, and we're going to continue what we've been doing over the last couple of years on a bigger level and look forward to it.
TC: I noticed during your USO show you did a musical number. Do you have any musical ambitions?
RB: Oh, yeah, I mean, my family is very talented. My sister, she was in a video I put up on YouTube called JUICY, it was a parody of Notorious BIG… sorry it was EXTRA JUICY, a parody of Notorious BIG. It's just something I've always liked to do. I do karaoke all the time, and I just think that this character has given me the opportunity to showcase a lot of my talents in different ways. The stage show that we're gonna be launching in DC in a few months, it's just a block or two away from the White House, it's gonna include musical numbers, comedy, all these things.
It would be unfortunate for me to not use my talents and just let them go to waste. I don't think there's anything worse than somebody who's full of talent, and just sits around, lets the day to by, and is possibly in a job that they're not able to use they're talents, they let them waste away and not use them. But I'm in a position where I can have fun at my job, I can do the things that I normally would do, but do them in character as the President, and people enjoy it, so, you're going to be seeing a lot more of the variety and the range that I'm capable of just through this.
Hopefully, this character will get me noticed on other levels. The reason I moved out to L.A. was to get more attention as an actor, and I think that now people are starting to realize that the impression is really hard to do, and it took a lot of time and practice, and they've started to give me respect and a chance as an actor and performer.
TC: What do you think about Fred Armisen's impression on SNL?
RB: No comment. (laughs)
TC: Did you ever wonder why they didn't approach you?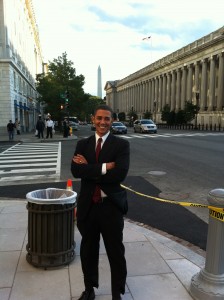 RB: Yeah, of course. Everybody, I mean, the first thing out of people's mouths is, "Oh my God, why aren't you on Saturday Night Live?" And I always tell them … if Lorne Michaels and the team heard that as much as I do, I would be on there. It's just… it's always been a dream of mine to be on Saturday Night Live, so I'm always available and open to it and I would love to be on the show, but I have not been approached. I sent an audition tape to 'em last year but I never heard back.
TC: So that's something you would be open to, then? Maybe like a dance-off with Armisen?
RB: Anything.
TC: A battle royale?
RB: Oh yeah. I mean, I'm a big fan of Fred, and a lot of his other characters. So I'll just say that.
TC: There'd still be a lot of other things for him to do, right?
RB: Oh, of course. He's a very talented comedian. I mean, like his Mahmoud Ahmedinejad…(laughs)
TC: Your comments about your job are remarkably apolitical. How political were you before this, and now?
RB: My job requires me to keep my finger on the pulse. We have a team of writers that build up the material, so I think that, beforehand, I think that this last election pulled a lot of the younger audience into politics, and it made a lot of young America, interested in what was going on because it was such a movement towards something different. The young voter registration went up and all that. I think that that just made everyone more aware of politics, and now that my job is very directly related to it, we follow it pretty closely.
TC: When you're out in public, do people just come up to you and ask you to say stuff?
RB: I'm still on the rise, so it's great to get the attention from people now. It hasn't gotten so overwhelming yet to where it's intruded on my privacy or my enjoyment of anything. Yesterday, I was going through the airport and the TSA guy starts getting passenger ID. He looks down, looks at me, and he's like, "Oh my God, Reggie Brown? You're amazing, I'm a huge fan. I've got a joke for you," and he's telling me all these jokes he has.
TC: How old are you?
RB: Thirty years old.
TC: Oh, so you're a lot younger than the President. Do you mind giving us a few personal details? Are you married? Do you have kids?
RB: I'm single, and I like it very well.  I have a very supportive family, we're a very tight family unit, so I try to use them whenever I can. My sister has an amazing voice. My "Secret Service" are my three brothers, and I have some amazing friends who have been beside me for many years, so I try to use them whenever I can.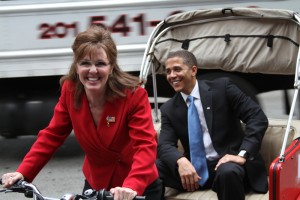 TC: Have you had criticism from friends or family about the number of gigs you do for conservatives or Fox News?
RB: You know, I was very surprised that Fox News would invite me. On the first time, I felt like I'm walking into the lion's den, not knowing what they were gonna do, but nothing I've done with them so far has been controversial or over the top. Governor Huckabee and I have a great relationship.
TC: Has anybody ever asked you to do something objectionable in your act that you didn't want to?
RB: Yes. I've turned down tens of thousands of dollars. People think they can have me go out there and do racial slurs, or be involved in overly offensive and vulgar content. They can hire someone else for that. That's not my objective. One of my career goals is to make it to the White House, meet the President, entertain the First Family, so, you know, someone else can have that job.
TC: Can you say who it was that offered you stuff that you turned down?
RB: No.
TC: What are your thoughts on same-sex marriage? That's an issue that's pretty hot today for the President.
RB: Being as an entertainer, and having a lot of gay friends, I think that being in love is such an amazing thing, and I think that if someone wants to marry someone of the same sex, that is their prerogative. That's not my decision to make, I can't tell them what to do with their life. As long as someone finds someone who's going to take them through life's journey, who's to say it has to be a man, or has to be a woman? Life is hard enough as it is, so, if you can be happy, why not be happy?
TC: Feel free to answer this last question in character. If you had one message for President Obama, what would it be?
RB: (in character)Uh, first, let me say this… Thank you for the opportunity. (breaks character) I'd really just thank him for all the opportunities he's given me, because he has directly changed my life. I'd try to tell him all the experiences I've had that not too many people get to…It's been amazing, so I would profusely thank him. People always ask me this question, and he's the one person…I hang out here with celebrities all the time, I've met so many "important people," but I think he's the one person I'd get in front of, and try to keep myself in check, but I think I just wouldn't know what to say.
——–
After our interview, I emailed him because I forgot to ask him who he voted for in 2008. He replied, "Take a guess!"
Minutes later, his manager, Dustin Gold (who had been copied on the email), chimed in, "Reggie is nonpartisan but can be for a fee, he is a hired assassin, and his political affiliation is 'entertainer.'"
Several hours after our interview, Reggie Brown delivered a knockout performance on Real Time with Bill Maher, and if you thought the material he performed there was several notches edgier than his normal, corporate-friendly act, you weren't imagining things. After the show, I asked Reggie if the Real Time jokes were actually the ones he intended to finish his RLC set with:
Last night was amazing!  I am one of Bill Maher's biggest fans and when he invited me on the show, I was beside myself, it has been one of my career goals to make it onto his show.

Great observation by the way, his team did provide me with the material last night. His audience expects a little more pop in the jokes and that's exactly what they we gave them. The rest of my material from the RLC will be performed in my upcoming comedy tour and performances.

Last night's material pushed the line a bit further than we go on our normal corporate show but as a comedian it was amazing to perform in front of the best audience in the television world.
Have a tip we should know? tips@mediaite.com