Twitter Rolls Its Eyes at WaPo's Philip Rucker for Saying 'Tonight Is a New President Trump'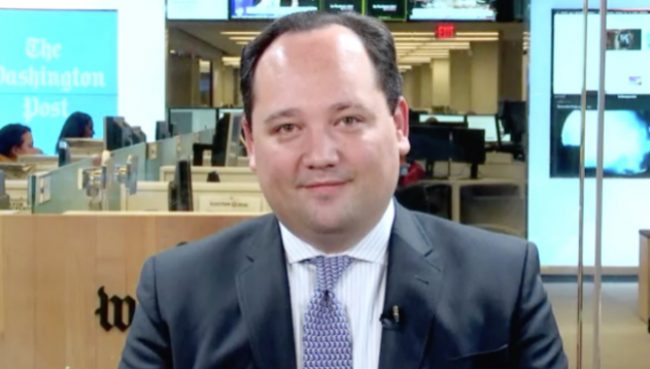 Philip Rucker is facing a ton of mockery for the way in which he reacted to President Trump's speech tonight.
As Trump announced his intent to deploy more troops into the war in Afghanistan, he issued a new call for unity while mocking Islamic terrorists as thugs and losers. Even though Trump used a teleprompter for this speech and didn't clarify many details of his plans, the White House Bureau Chief for The Washington Post offered this tweet:
Tonight is a new President Trump: Acknowledging a flip-flop and talking about gravity of office, history & substance.

— Philip Rucker (@PhilipRucker) August 22, 2017
Twitter mockery: GO!
So this is the #pivot? https://t.co/tF6QHe0Nfz

— Ben Jacobs (@Bencjacobs) August 22, 2017
One can only stare in quiet disbelief at a tweet like this. https://t.co/z0DKIIBHfj

— Peter Daou (@peterdaou) August 22, 2017
Um, Trump is reading words someone else wrote which he doesn't believe because he's outsourced policy making to the military. Not good. https://t.co/A4xenIMGL2

— Jeet Heer (@HeerJeet) August 22, 2017
No, this is a dude reading a Very Serious Speech from a teleprompter. https://t.co/nvXzY33lbX

— Noah Shachtman (@NoahShachtman) August 22, 2017
War and killing are the U.S. media's pornography. https://t.co/BGufr3cbSX

— Glenn Greenwald (@ggreenwald) August 22, 2017
Me: How many times are you going to fall for it when your shitty abusive boo tells you he's sorry?
You: https://t.co/MJhfeAO2re

— Ashley Black (@ashleyn1cole) August 22, 2017
the president gave a detail-free speech on his mystery strategy for continuing a 15-year war, but, on the other hand https://t.co/L8zk4IBx5M

— Simon Maloy (@SimonMaloy) August 22, 2017
Lucy has a football for you to kick, Philip. Stop falling for this crap. Trump will make you eat this tweet very soon. "New Trump." Ha! https://t.co/URXCgIJYVp

— Bob Cesca (@bobcesca_go) August 22, 2017
Prediction: This is going to look really damn dumb after tomorrow's AZ rally to pardon a racist convicted sheriff. https://t.co/8KJEKDjKYv

— Patrick S. Tomlinson (@stealthygeek) August 22, 2017
How is it possible someone would still tweet this. https://t.co/XOjZS8xwHo

— Kate Aurthur (@KateAurthur) August 22, 2017
Wait for it…wait for it…Today Is The Day Trump Truly Became President. https://t.co/V0qxLuqnRM

— Jeff B/DDHQ (@EsotericCD) August 22, 2017
.@PhilipRucker Dear friend: I am seeking to transfer funds to you. Please I will offer you 20% of the total sum USD4.2M for your assistance. https://t.co/fEiSpVM0vQ

— James Urbaniak (@JamesUrbaniak) August 22, 2017
Journalists are eternally desperate to normalize Trump, no matter how much evidence accumulates of his absolute unfitness. https://t.co/8qz3jTYgyG

— Dan Gillmor (@dangillmor) August 22, 2017
I ….what? https://t.co/z3db7tKUvo

— Tom Nichols (@RadioFreeTom) August 22, 2017
[Image via screengrab]
— —
>> Follow Ken Meyer (@KenMeyer91) on Twitter
Have a tip we should know? tips@mediaite.com