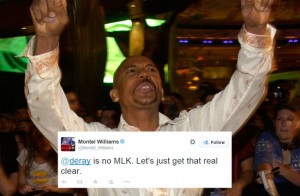 Montel Williams has been on a roll lately, what with his recent condemnation of Josh Duggar and his subsequent doubling-down on those initial comments. However, the talk show host put himself on Twitter's shit list after he tweeted about civil rights activist Deray McKesson late Tuesday night.
The tweet in question attempts to rip apart the possible comparison between McKesson and Martin Luther King, Jr.:
@deray is no MLK. Let's just get that real clear.

— Montel Williams (@Montel_Williams) June 10, 2015
McKesson responded to Williams on Wednesday morning:
& you're no Oprah. & you don't have to be, as I appreciate your work for what it is. Fighting for you too, Montel. https://t.co/6X6F3BEFqz — deray mckesson (@deray) June 10, 2015
So did the King Center in Atlanta:
But @deray is a man of consciousness whose life is threatened daily because of his activism. He cares. We're clear. https://t.co/6kimuoZ0mP

— The King Center (@TheKingCenter) June 10, 2015
It is erroneous and contrary to Dr. King's philosophy and legacy to use him to be divisive and destructive. #MLK — The King Center (@TheKingCenter) June 10, 2015
However, the best (and most creative) rebuttals to Williams' troll-inviting tweet came in the form of the #MontelWilliamsLogic hashtag:
Tiger Woods is no Jackie Robinson. #MontelWilliamsLogic @MoreAndAgain

— Jane Doe, MD (@DrJaneChi) June 10, 2015
Jesse Jackson is no Michael Jackson. #MontelWilliamsLogic

— Morticia Baddams (@linluv5) June 10, 2015
apple is no orange #montelwilliamslogic

— Albus Percival (@javierabrown) June 10, 2015
Cake is no ice cream #MontelWilliamsLogic

— Daria Morgendorffer (@_EmmTee) June 10, 2015
Let this be a reminder that the Internet is wonderful. At least, when you're not on the receiving end of its best (and worst) trolls.
[h/t The Root]
[Image via Montel Williams/Shutterstock.com]
— —
>> Follow Andrew Husband (@AndrewHusband) on Twitter
Have a tip we should know? [email protected]