Twitter Was Livid That Duke's Grayson Allen Was Only Suspended One Game For Tripping Opponent (Again)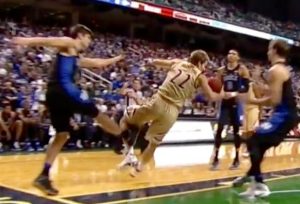 On Dec. 22, we posted about Duke guard Grayson Allen, who flagrantly tripped an opposing player for the third time in the 2016 calendar year. Shortly after our story went up, Duke coach Mike Krzyzewski suspended Allen from the team indefinitely.
Without Allen, Duke lost its conference opener against Virginia Tech on New Year's Eve 89-75. Further, Krzyzewski is about to take a leave of absence from the team, as he undergoes back surgery.
Those factors were enough, evidently, for Krzyzewski to allow Grayson Allen to return to the Duke lineup after just one game.
"There are things behind the scenes that we are doing, and I think it's appropriate what we've done," Krzyzewski said, via ESPN.
Fans on Twitter thought Allen was let off the hook way too easily. Here's a sampling of the public reaction:
Grayson Allen completed his entire indefnite suspension in only one game. Just tremendous hussle

— PFTCommenter (@PFTCommenter) January 5, 2017
It isn't just Krzyzewski's back that's a problem. Given his pillow-soft punishment of Grayson Allen, so's his backbone.

— Mike Vaccaro (@MikeVacc) January 5, 2017
If #GraysonAllen would've made that layup while being fouled, he could've gone to the free throw line for an And-indefinite.

— Joey Powell (@Joey_Powell) January 5, 2017
Coach K's upcoming back surgery is going to be a challenge without a spine. #GraysonAllen

— Patrick Quaife (@pquaife) January 5, 2017
"Indefinite is the loneliest number." – Mike Krzyzewski, probably

— Evan Markfield (@EvanMarkfield) January 4, 2017
My mom put me in timeout for tripping my sister when I was 6 that was longer than Grayson Allen's suspension ? @DTonSC

— Kate Beirness (@KateBeirness) January 5, 2017
I've gone to the restroom longer than Grayson Allen was suspended. What was it 10 mins? Coach K should be a shame of himself #LAUGHABLE

— shannon sharpe (@ShannonSharpe) January 5, 2017
Mariah Carey sang longer on New Year's than Grayson Allen was suspended

— Jonathan Jones (@jjones9) January 4, 2017
Ooh. Grayson Allen back in Duke's line-up after serving an indefinite suspension for tripping.

Of one game.

That'll teach him. ?

— Bonnie Bernstein (@BonnieBernstein) January 4, 2017
It was clear after Duke lost to Virginia Tech that Duke…er, Grayson Allen…had learned its lesson. #bbn https://t.co/Qi5tSC60wm

— Jon Endean (@JonEndean) January 5, 2017
Did you REALLY think Grayson Allen was going to have a lengthy suspension? You must be trippin'.

— Adam Bernard (@AdamsWorldBlog) January 5, 2017
Grayson Allen got the basketball equivalent of being grounded from TV and internet for a week

— mike mulloy (@fakemikemulloy) January 5, 2017
Grayson Allen is back, but the Warriors blew a 3-indefinite lead in the NBA Finals.

— Haley Gray (@haleygray5) January 5, 2017
Hearing that Coach K also sent Grayson Allen to bed without seconds of dessert.

— Grant Boone (@grantboone) January 5, 2017
Grayson Allen's "indefinite suspension" w/Duke is over after 1 game, but, hey, it has been a year since he played

— Brett McMurphy (@McMurphyESPN) January 4, 2017
With Allen back on the floor, Duke beat Georgia Tech on Wednesday night 110-57.
[image via screengrab]
–
Follow Joe DePaolo (@joe_depaolo) on Twitter
Have a tip we should know? tips@mediaite.com
Joe DePaolo - Senior Editor