Two People Ejected From GOP Convention After Mocking Black CNN Camera Operator
Two People Ejected From RNC After Mocking Black CNN Camera Operator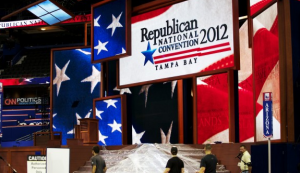 Wednesday morning, CNN reported that two people had been ejected from the GOP convention by RNC security and police after allegedly throwing nuts at a black CNN camera operator while saying, "This is how we feed animals."
As Talking Points Memo notes, this incident may run the risk of putting the network in an awkward position for a couple of reasons. TPM wrote up the following report shortly after CNN.com published a post about the incident:
But you may have noticed that one of the biggest news organizations in the world — CNN — has been remarkably tight-lipped about this.

So it's worth noting why that probably is. There's a normal and correct tendency for a news outfit not to want to make itself into the story. But this goes way beyond that and puts CNN in an exquisitely awkward position. CNN has been bending over backwards of late trying to position itself as the last holy beacon of objectivity and fairness in cable news, as Fox and MSNBC play to more clearly partisan audiences. Meanwhile, they're under almost constant assault from conservatives for alleged (and basically mythical) liberal bias.

Meanwhile, the Republican National Convention is the GOP's quadrennial we love us a lotta non-white people fest. And given what I said above the last possible thing CNN wants is to rain on that parade or become the focus of a huge messaging nightmare if attendees were harassing an African-American member of their team.
TPM also noted that the network "did finally put out a basic report this morning," adding that, nonetheless, the network's "relative silence" on the matter will likely result in a backlash from viewers.
Convention representatives have called the incident "deplorable," "inexcusable," and "unacceptable," adding that such behavior will not be tolerated.
CNN also put forth a rather succinct statement of its own:
CNN can confirm there was an incident directed at an employee inside the Tampa Bay Times Forum earlier this afternoon. CNN worked with convention officials to address this matter and will have no further comment.
h/t TPM
Have a tip we should know? tips@mediaite.com