U.S. Embassy In Egypt Pulls, Restores Twitter Account After Spat Over… The Daily Show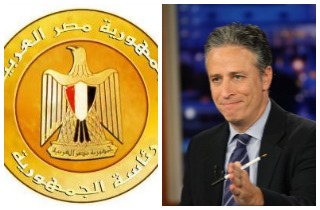 One day when we'll all be able to look back at a time when diplomatic spats took place over Twitter and involved Jon Stewart. Indeed, the U.S. embassy in Egypt caused a bit of a stir today when, after tweeting a link to the recent Daily Show segment about Bassem Youssef ("Egypt's Jon Stewart") that was more than a little critical of Egyptian President Mohammed Morsi. The president's Twitter account responded — and the embassy briefly yanked its account altogether.
For starters, here are the tweets in question, including the Egyptian presidency's account remarking, "It's inappropriate for a diplomatic mission to engage in such negative political propaganda."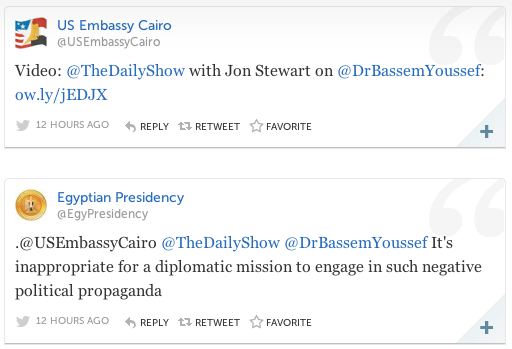 This then led to many noticing that the embassy took down their Twitter account, naturally also prompting the question, "Why?" A State Department official told Foreign Policy magazine that the decision came from by U.S. Ambassador to Egypt Anne Patterson without consulting with the State Department. State Department spokeswoman Victoria Nuland told reporters there were "no instructions from this building" about the account.
"We've had some glitches with the way the Twitter feed has been managed," Nuland said. "This is regrettably not the first time."
The embassy's Twitter account was later restored — but the tweet linking to The Daily Show has been deleted.
In that segment, which aired on Monday night, Stewart brutally mocked Morsi for going after Youssef due to his criticism of the president. "Silencing a comedian doesn't qualify you to be president of Egypt," Stewart said of Morsi, recalling his earlier vow to "welcome every" opinion. "By the way, without Bassem and all those journalists and bloggers and brave protestors who took to Tahrir Square to voice dissent, you, President Morsi, would not be in a position to repress them."
Have a tip we should know? tips@mediaite.com