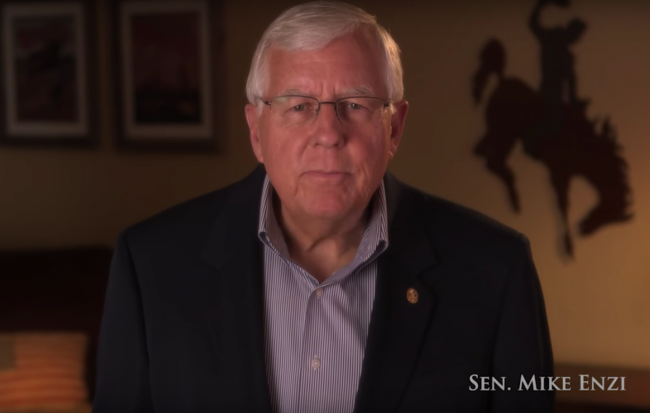 Wyoming's senior Senator, Republican Mike Enzi, made some curious comments last week to a group of middle and high school students. During a visit to his state's Greybull High School and Middle School on April 20, Enzi said he loved Wyoming because you could be whoever you wanted as long as you "don't push it in somebody's face."
He then went on to describe what he felt constituted pushing "it" in somebody's face:
"I know a guy who wears a tutu and goes to bars on Friday night and is always surprised that he gets in fights. Well, he kind of asks for it. That's the way that he winds up with that kind of problem," Enzi told the students, the local Greybull Standard reported.
"Everything can't be done by law," he added. "The biggest thing that we need is civility."
After the comments ricocheted around the Internet, the walk-back was swift and total. The senator clarified his "poor choice of words," in an email to the Huffington Post and various other outlets.
No person, including LGBT individuals, should feel unsafe in their community. My message was intended specifically to be about promoting respect and tolerance toward each other. I hope if people look at the entirety of my speech, they will understand that. I regret a poor choice of words during part of my presentation. None of us is infallible and I apologize to anyone who has taken offense. No offense was intended. Quite the opposite in fact, and so I ask for your understanding as well.
In 1998, the Equality State was the site of the infamous murder of Matthew Shepard, a 21-year-old man who was tortured and ultimately killed because he was gay.
[image via sceeengrab]
Have a tip we should know? tips@mediaite.com