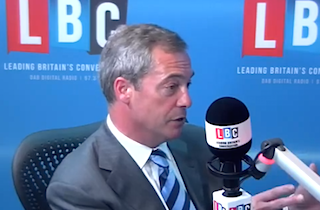 The UK Independence Party (UKIP) has been under fire this week for comments party leader Nigel Farage made about not wanting Romanians as neighbors. After he was criticized by commentators and political opponents for what many views as "racist" remarks, Farage decided to publish an open letter in The Telegraph newspaper Monday defending his party's views.
In the letter, Farage begins by acknowledging that his remarks caused a "predictable storm of protest and accusations of racism." He insists that UKIP is "not a racist party" and admits that the "vast numbers of Romanians who have come to the UK wish to better their lives and would make good neighbors."
But after that, Farage mostly undoes any help he'd given himself by listing off statistics that show just how undesirable those Romanian neighbors would be. He cites one figure showing that 92% of all "ATM crimes" are committed by Romanians, and another that shows 28,000 Romanian arrests in one London district. Ultimately, Farage reiterates his party's primary message of wanting the leave the EU.
"It is not racist to want to stop organized criminal gangs undermining our way of life — it is common sense," Farage concludes.
It can't be easy to declare how "not racist" you are and make more several racist statements all within the space on one full page ad. It's almost as if he's been media trained by Donald Sterling.
Read the full letter below, as it appeared in The Telegraph: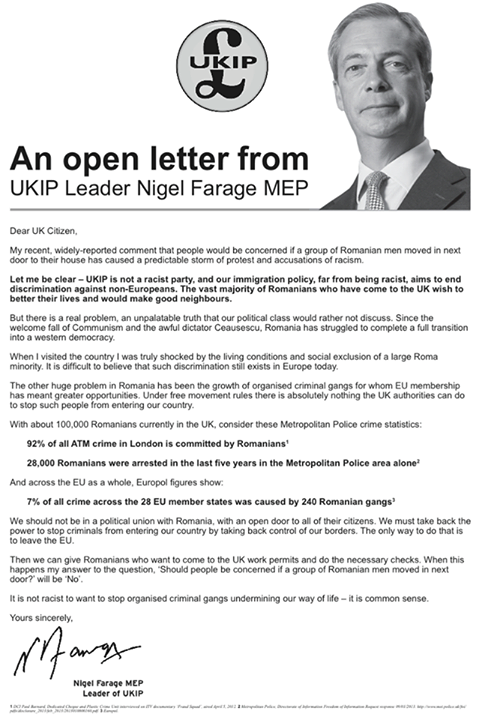 Of course, in his original comments, Farage referred merely to a "group of Romanian men" moving next door to a flat as something about which Londoners should be concerned, without mention of those men being part of an "organized criminal gang." When he was asked if a group of German men might elicit a different reaction, he answered affirmatively, saying, "We want an immigration system based on controlling not only quantity but quality as well."
On Thursday, voters will go to the polls to elect 73 members to represent the UK in European Parliament. According to recent polls, UKIP is leading among likely voters with 35%, meaning the party would have the largest share of control of any in the UK.
Watch Farage's original comments below, via LBC:
[Photo via screengrab]
— —
>> Follow Matt Wilstein (@TheMattWilstein) on Twitter
Have a tip we should know? tips@mediaite.com