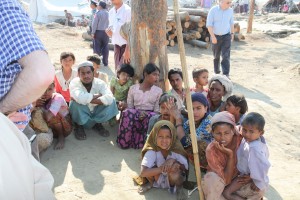 Welcome to Undercovered: our daily feature bringing attention to excellent reporting we feel deserves a larger audience.
—
The Economist wrote last year that the Rohingya, a Muslim ethnic minority living primarily in Myanmar, were perhaps the most persecuted people in the world.
Joshua Kurlantzick, a senior fellow at the Council on Foreign Relations, wrote in Washington Monthly magazine last week that the persecution endured by the Rohingya in Myanmar since 2012, when local Buddhists began relegating them to refugee camps, has become classifiable as a genocide.
Since 2012, when the latest wave of anti-Rohingya violence broke out, attackers have burned entire Rohingya neighborhoods, butchering the populace with knives, sticks, and machetes. They beat Rohingya children to death with rifle butts and, quite possibly, their bare hands. Since then, half the population of Myanmar's Rohingya has been displaced. Some have tried to escape to other Southeast Asian nations on rickety boats often operated by human traffickers. If the migrants do not die of dehydration or heatstroke, they are frequently picked up by pirates or the Thai navy—which may not be much better than getting nabbed by pirates.

[…] Even if the Rohingya make it out of Myanmar, past the pirates, modern-day slavers, and Thai navy ships, there are few places for them to go. In nearby nations like Malaysia or Indonesia there is some sympathy for their co-religionists, but they are not willing to give the Rohingya permanent refuge. The Rohingya living in Malaysia operate in the shadows, working in the informal economy, unable to send their children to public schools, with no prospects of resettlement anywhere else.
Moreover, Kurlantzick notes that, despite harrowing reports from human rights groups of violence and devastation, democracies like the U.S. and the world at large have been largely silent.
When Obama himself visited Myanmar in 2014, he called on the country to face "the danger of continued [inter-communal] violence" but did not slow down rapprochement. The Obama administration has not come so far in boosting diplomatic and economic engagement with Myanmar's government to do more than rhetorically tut-tut at it, even as many of Myanmar's leaders continue to insist that all Rohingya are in the country illegally.

Many leading democracies, including Japan, have larger stakes in Myanmar than the United States and are even less likely to take up the Rohingyas' cause.
You can read the complete report here.
—
[image: Displaced Rohingya people in Rakhine State. Photo via Foreign and Commonwealth Office]
Undercovered is a new daily feature from Mediaite, bringing attention to stories that warrant more attention. Go through the Undercovered archives here. If you have an idea or a tip, please email us at Undercovered@mediaite.com 
Have a tip we should know? tips@mediaite.com