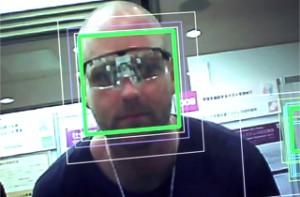 Welcome to Undercovered: our new daily feature bringing attention to stories we feel deserve a larger audience.
—
Facial recognition software is quickly becoming one of the most hotly contested fronts in the debate over online privacy.
Sites such as Facebook use facial recognition to enable users to tag their friends in photographs with greater speed and accuracy, but the technology has far-reaching ramifications for policing, security, and cyber-bullying. It is being challenged in federal court and is already feeding a cottage industry of new technology aimed at thwarting it.
Facebook is currently embroiled in a lawsuit over whether or not the site's software infringes on users' privacy. Earlier this month, a federal judge in San Francisco shot down an attempt by Facebook to dismiss the case. In his ruling, U.S. District Judge James Donato wrote: "The Court accepts as true plaintiffs' allegations that Facebook's face recognition technology involves a scan of face geometry that was done without plaintiffs' consent."
Russell Brandom, writing for The Verge, described the lawsuit:
The lawsuit alleges that Facebook's photo-tagging system violated user privacy by creating faceprints — geometric representations of a person's face — without explicit consent. Those faceprints are typically used to identify users to suggest tags for uploaded photos. According to the complaint, that's a violation of Illinois's Biometric Information Privacy Act, which forbids the collection of biometric identifiers like fingerprints or faceprints without a person's explicit consent. As Alvaro Bedoya of the Center on Privacy and Technology at Georgetown Law described it, "If you run a bar, the law doesn't prevent you from picking up my used pint glass, but it prevents you from pulling my DNA off it."

The photo-tagging system is disclosed in the company's Data Policy and users can opt out of it, but it is unclear whether those measures will satisfy the legal definition of consent. "This lawsuit is without merit," a Facebook spokesperson said in an earlier statement on the case, "and we will defend ourselves vigorously."
Facebook has rolled out a modified version of the software in Canada and Europe, which have stronger privacy laws. But the technology has implications far beyond just social networking.
The Toronto Star's Raju Mudhar writes of the possibilities for policing large crowds and for thwarting terrorism:
One area where facial recognition technology has become somewhat common is in soccer stadiums. In the U.S., Australia, Germany and South America, the technology has been used to scan spectators as they enter a match and quickly check a database for prior criminal activities.

[…] The EU's refugee crisis could see countries use facial recognition as a way to keep track of what it calls "irregular migrants." To get to that point, the EU will need loosen current rules to keep the biometric data for longer and also lower the age of having their data collected from 14 to unaccompanied minors as young as 6 years old. The moves are being considered by the EU's executive arm to modernize the Eurodac system, which collects fingerprints from asylum seekers.
Meanwhile, a new Russian face recognition app called FindFace is exploding in popularity, while raising concerns about the potential abuses. FindFace works by comparing photographs that users take of people's faces with data on the Russian social media site Vkontakte, which has over 200 million accounts. (For the moment FaceFind is incompatible with Facebook.)
The Guardian's Shawn Walker writes that FindFace, which was launched a mere two months ago, "allows users to photograph people in a crowd and work out their identities, with 70% reliability."
Unlike other face recognition technology, their algorithm allows quick searches in big data sets. "Three million searches in a database of nearly 1bn photographs: that's hundreds of trillions of comparisons, and all on four normal servers. With this algorithm, you can search through a billion photographs in less than a second from a normal computer," said [FindFace co-founder Alexander] Kabakov, during an interview at the company's modest central Moscow office. The app will give you the most likely match to the face that is uploaded, as well as 10 people it thinks look similar.

Some have sounded the alarm about the potentially disturbing implications. Already the app has been used by a St Petersburg photographer to snap and identify people on the city's metro, as well as by online vigilantes to uncover the social media profiles of female porn actors and harass them.
The app is already presenting a whole new avenue for people who wish to engage in cyber-bullying and online harassment. The Star writes:
After some people expressed how [FaceFind] could violate people's privacy, an online community known as Dvach (akin to 4 Chan) decided to use images from pornographic videos and find and harass the women on their social network profiles — and also contact their friends and family
Luckily, if keeping your face private means so much to you, there are options available. A Japanese company developed a pair of glasses that will make your face unrecognizable to scanners. The glasses' lenses obscure the wearer's face by refracting and messing with the light so much so that cameras cannot detect the user.
Privacy Visor はメガネの上からでもかけられるし掛けごこちも中々でさすがの鯖江クオリティ。もちろん普通のカメラアプリでは顔検出されない。 pic.twitter.com/u9GD1uuyjv

— ミクミンP/Kazuhiro Sasao (@ksasao) March 20, 2016
Engadget writes that "the glasses successfully screwed with smartphone cameras' facial recognition systems 90 percent of the time." They're expected to hit the market next month, and such privacy will only cost $240.
—
"Undercovered" is a new daily feature from Mediaite, bringing attention to stories that warrant more attention. If you have an idea or a tip, please email us at Undercovered@mediaite.com
[image: screengrab via DigInfoTV/YouTube, depicting an earlier version of tech designed to obscure facial recognition, c. 2013]
Have a tip we should know? tips@mediaite.com