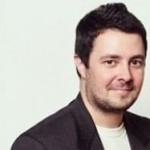 We live in interesting times. Today, you can take the entire world with you in your pocket, but few can be bothered to get off the couch. That said, increasingly, applications on the web are making it more difficult to ignore the call of the wild. Some of the coolest apps on your phone right now encourage you to get off the web and get a life.
The most buzzed about application that does this right now is FourSquare, which makes going out and doing things a competition. If you've frequented an establishment more than anyone else, you'll be crowned mayor of your favorite place. Be careful though, there are plenty of others vying for the title, and Foursquare rewards you as well for being a well-rounded traveler. Check into the same places all the time and you won't be rewarded as handsomely as checking out new venues.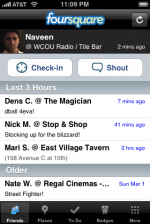 The startup, created by Dennis Crowley and Naveen Selvadurai, formerly of the New York City cult classic Dodgeball, created the application after Google failed to give them and Dodgeball the love it deserved. Dodgeball was ahead of its time and was a much less flashy version of FourSquare. Crowley, a graduate and now adjunct professor of New York University's Interactive Telecommunications Program, "builds things that makes cities easier to use." The explosion of the iPhone and location-based applications helped it become the nucleus at the center of the hyperlocal zeitgeist — and sway people to actually get off their computers and out with their friends, since FourSquare check-ins show the party growing literally before their eyes. Since it's launch in March, FourSquare has racked up the users — and even attracted the attention of Twitter co-founder Jack Dorsey, who just this week made a personal investment in the start-up.
While you're out, maybe you want to share what you're doing with the world. Recently launched by my partner Richard Blakeley and I is a hyperlocal blogging network called Neighborhoodr. Neighborhoodr is the very first network of sites covering hyperlocal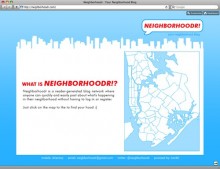 and leveraging the power of the Tumblr platform. Basing the network on Tumblr means it can draw from a massive base of content being created in real time by people living and doing things in the 60 different, distinct neighborhoods in the five boroughs of New York City. Tumblr makes it easy to upload content from anywhere, via email or iPhone application. You can even call into a special phone number and post audio clips to your 'hood. So if you're at an amazing concert in Williamsburg, you can share it with all your neighbors simply by picking up your phone and raising it in the air. New York is only the beginning. Soon Neighborhoodr will cover major cities around the world, giving a glimpse at what's cool, what's interesting, and what is happening right now anywhere at any moment — outside your apartment.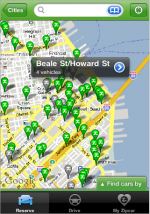 Let's say you want to get out, but want to venture further, and unfortunately you have no car. An application has arrived that seems almost like science fiction. It will not only allow you to rent a vehicle, but will lead you to it and allow you to unlock it from your phone. The iPhone's ZipCar application makes the world smaller and more accessible by putting the power to move literally in the palm of your hand.
The hyperlocal space has been driven by the technology and unlocked by our smart phones — the limits to which it can now be taken are defined only by our imagination. Fine, some of that happens at the computer — but, as these three apps show you, a lot can happen IRL as well.
Anthony De Rosa is a veteran blogger who has been developing and providing consulting for new media since 1996. He posts his opinions on a variety of topics, social media and politics in particular, at soupsoup.tumblr.com.
Have a tip we should know? tips@mediaite.com