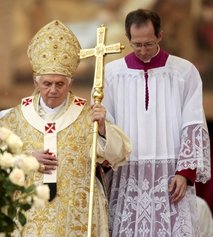 Happy Easter Sunday! Unless you are a member of the Vatican, where things appear, if that's possible, to have gone from bad to worse. Here are the latest updates from the Catholic Church's Holy Week from Hell, alternately known as the week the world discovered how far the Vatican will go to keep reality at bay.
First, Pope Benedict's personal preacher apologized to Jews this morning for comparing the barrage of attacks against both the Church and the pope over a number of huge sexual abuse scandals — instigated by the recent, damning reports from the New York Times — to 'collective violence' against Jews throughout history. Uh huh. No mention that the Vatican does not exactly have a spectacular record for intervening in that "collective" violence during WWII.
Adding insult to injury, the statements came on Good Friday, a day in the Catholic Church that has in the past been spent trying to convert Jews to Christianity. Said Father Raniero Cantalamessa: "'If — and it was not my intention to do so — I hurt the sensitivities of Jews and victims of pedophilia, I am truly sorry and I ask for forgiveness,' Father Raniero Cantalamessa said in an interview with Italy's Corriere della Sera newspaper."<!-more-->
He also noted the Pope had no prior knowledge of the remarks, and heard them for the first time on Friday (he was sitting a few feet from Cantalamessa).
Meanwhile, Pope Benedict made his annual Easter remarks earlier this morning in St. Peter's Square and chose not to make a single mention of the sex abuse charges. None. However, the mass did begin with a "ringing tribute" by Cardinal Angelo Sodano, who hailed the Pope's "unfailing" leadership, part of what the AP described as a "vigorous Vatican campaign to defend Benedict's moral authority."
Says Maureen Dowd (as only she can): "This church needs a sexorcist more than an exorcist… It is in crises that leaders are tested, that we get to see if they succumb to their worst instincts or summon their better angels. All Benedict has to do is the right thing." Yep, that's all.
Have a tip we should know? tips@mediaite.com