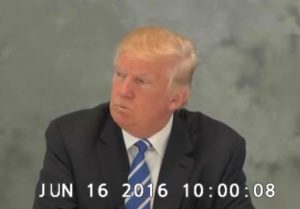 A federal judge has ordered that video deposition of Trump speaking to his incendiary rhetoric about immigrants is in the public interest and must be released.
Politico reports that a D.C. judge issued an order Thursday evening ruling that Trump's attorneys' concerns that the video could be used against him in campaign ads was not a compelling reason to keep the video sealed.
"The possibility that excerpts of the video recordings may be used in so-called "negative attack ads" in an election campaign is inherently speculative," the order says.
The testimony was given this June in connection to a suit in which Trump's company sued restauranteurs who pulled their businesses out of Trump's new Washington D.C. hotel. The restaurant owners made the decision after Trump called Mexican immigrants "rapists" and drug dealers in his campaign announcement speech in June 2015. Trump filed suit for breach of contract in Aug. 2015.
Transcripts of Trump's testimony in this matter, as well as that of his children Donald Jr. and Ivanka, have already been made public. In August, a host of media companies, including Buzzfeed, CNN, The Washington Post, NBC, ABC, CBS, and the Los Angeles Times filed motions arguing for the release of the videos.
"This Court finds that Plaintiff [Trump] has not demonstrated that any subject video deposition contains scandalous, libelous, or other unduly prejudicial material warranting denial of media access," D.C. Superior Court Judge Brian Holeman wrote in his decision. "The public shall not be held captive by the suggested eventuality of partisan editing in a manner unfavorable to Plaintiff or the deponents."
The video was made public Friday afternoon.
Regarding his comments about immigrants, Trump said in the deposition that the "very dishonest" media had misinterpreted his remarks. "[A]ll I'm doing is bringing up a situation which is very real about illegal immigration. And I think, you know, most people think I'm right."
He said that although he did not write down his comments about immigrants, he had planned them in advance. They do not appear in the prepared text for his announcement speech released by his campaign, which was much more anodyne on the subject of Mexican immigrants:
Mexico is not our friend. They are beating us at the border and hurting us badly at economic development. They are sending people that they don't want0the United States is becoming a dumping ground for the world
When Trump actually delivered his speech, what he said was:
When Mexico sends its people, they're not sending their best. They're not sending you. They're not sending you. They're sending people that have lots of problems, and they're bringing those problems with us. They're bringing drugs. They're bringing crime. They're rapists. And some, I assume, are good people.
—
Sam Reisman (@thericeman) is a staff editor at Mediaite.
Have a tip we should know? tips@mediaite.com