Video Proof Emerges That Bernie Sanders Supporters Avoided Throwing Chairs for 30 Seconds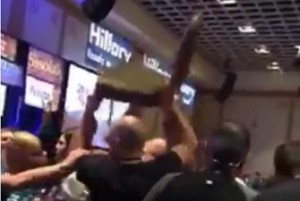 The Democratic presidential race has been roiled by the chaos that ensued at last weekend's Nevada Democratic Convention, where supporters of independent Vermont Senator Bernie Sanders disrupted the proceedings with profane heckling and, reportedly, chair-throwing. That event was followed by a barrage of threatening and harassing phone calls and text messages directed at Nevada Democratic Chairwoman Roberta Lange.
Well, according to some Bernie Sanders supporters, there is now video evidence that no chairs were thrown at the 12-hour-plus event, because they found a 30-second video of one Sanders supporter being prevented from throwing a chair that he'd lifted over his head:
RT this! NO chair throwing at #nvdemconvention – guy picks chair up, puts it down, they HUG it out. #TeamBernieNV pic.twitter.com/mBZmEeg1T5

— BernieForThePeople (@Bernie4People) May 17, 2016
Obviously, a 30-second video from an all-day event doesn't prove that no chairs were thrown, but the implication here is that this video must be what people who claim there were chairs thrown actually saw, and either exaggerated or reported second-hand. As John Ralston points out, though, there are multiple named witnesses on record, including a Nevada journalist who was there.
But in an election that's been full of poor defenses, like Donald Trump pointing out that all but one of his horrible quotes about women in a Hillary Clinton SuperPAC ad are completely accurate, or Hillary Clinton's rationale for not releasing speech transcripts, it's worth noting that even if Sanders supporters really did only mostly throw a chair, there's still plenty about this incident not to love.
Have a tip we should know? tips@mediaite.com