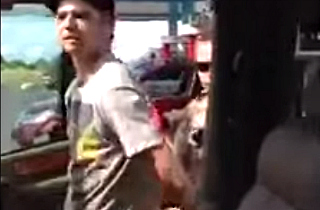 I've long maintained that Nickelback jokes are essentially the Nickelback of jokes, but an incident last week in Idaho has inspired me to come out of retirement. A band that's so bad that merely mentioning their name gets you pulled over and searched by the cops is too good to pass up.
That's what happened to two young men in the city of Coeur d'Alene. They were stopped at a gas station by Kootenai County sheriff's deputies who thought they overheard them talking about selling marijuana.
The dangerous criminals/music critics, as the Coeur d'Alene Press reports, filmed the interaction, in which they can be heard trying to convince the police that it was all a big misunderstanding. One of the police officers, whose names have also not been released, said he heard one of the men say "Yeah, a nickel sack for sure."
"No –- Nickelback," the suspect responded. "That guy over there was blasting Nickelback."
Unpersuaded, the officers continue their search, saying that their excuse was a "bullshit story." At one point, although it is unclear, one of the officers appears to pull his gun before handcuffing one of the men, as the Washington Post points out.
A nickel sack would be about $5, or a gram of marijuana, which is an absurdly miniscule amount. In Idaho possession with intent to distribute, which this would presumably fall under, provides for up to five years or a maximum $15,000 fine for less than 1 lb. or 25 plants.
The men were not charged with any crime, so presumably their story checked out. But, perhaps the funniest takeaway here, aside from the joke that is our criminalization of marijuana and the waste of time and resources we spend policing it, is that to be on the safe side, we had better all just stop talking about Nickelback altogether, joking or otherwise, just to be safe.
Watch below, via YouTube:
— —
>> Luke O'Neil is a journalist and blogger in Boston. Follow him on Twitter (@lukeoneil47).
Have a tip we should know? tips@mediaite.com