Virginia Attorney General Confirms Investigation Of Newt Gingrich Ballot Petition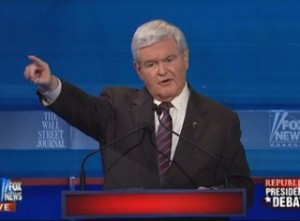 About a month ago, former House Speaker Newt Gingrich told supporters that his failure to get on the Virginia Republican primary ballot was the result of what he called "fraud" by one of his campaign's signature collectors, who turned in 1,500 bogus signatures. Now, progressive blogger and broadcaster Brad Friedman is reporting that the Virginia Attorney General's office and the State board of Elections have confirmed that they are investigating the incident.
RELATED: ACORN-Holed: Chris Hayes Calls Out Newt Gingrich's Voter Fraud Hypocrisy
In a 2009 op-ed, the former speaker excoriated the "enablers" of ACORN's "long history of engaging in voter fraud," but when he explained to supporters, in December, that his own campaign had turned in 1,500 fraudulent signatures, he characterized the incident as "fraud," but also as "a mistake."
Gingrich may be the forgiving sort when it comes to his own campaign, but Virginia election officials are, apparently, not so charitable. From The Brad Blog:
Late last week, SBE Deputy Secretary Justin Riemer confirmed to The BRAD BLOG both the referral to the AG's office as well as the fact that an investigation into the ballot petition fraud was officially being carried out by the AG.

"This issue has been referred to the State AG by the State Board of Elections, after learning of allegations of fraudulent signature gathering in that case, and a number of others," Riemer told us by telephone. "My understanding is that an investigation is under way," he said.

When we asked what "other" cases had also been referred to the AG, he referred us to the AG for more details, though he characterized the petition signature fraud described by Gingrich as "definitely an illegal act".

"We can confirm that there is an investigation underway," Brian J. Gottstein, Director of Communication for the Office of the Attorney General of Virginia confirmed toThe BRAD BLOG via email on Monday, "but other than that, we cannot comment about an ongoing investigation."
Gingrich was a vocal critic of the now-defunct Association of Community Organizations for Reform Now (ACORN), whom he (falsely) accused the group of "adding such notables as Mickey Mouse and Donald Duck to the voter rolls," and even compared it with Hamas (I'm not kidding).
Friedman also posits that Gingrich rival Mitt Romney may have voting problems of his own:
Last week, Romney release his federal income tax forms stating his residence to be "Belmont, MA". However, as we noted at the time, his specific address was redacted, so it's impossible to know, based on that return, if he used the address at his son's house or his newly purchased townhouse in the same small town, as his residence for tax purposes that year.

Notably, Romney failed to release his state income tax returns for 2010, nor any of them for years prior. A 2009 return showing his residence to be income-tax free New Hampshire would be damning evidence of voter fraud in the January 2010 election in Massachusetts.
I'm no election lawyer, but if Mitt Romney voted in Massachusetts, and filed state taxes in New Hampshire, that would be a terrible optic, at the very least, for a candidate who has already gotten a ton of bad press for his low income tax rate. So far, the Romney campaign hasn't commented on, or provided, their candidate's 2010 state tax returns.
Have a tip we should know? tips@mediaite.com