Rocky Road: Newt Gingrich Sued For Using 'Eye Of The Tiger' On Campaign Trail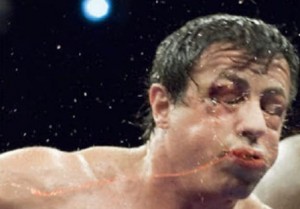 Risin' up, straight to the…courts? CBS news is reporting that former Speaker of the House Newt Gingrich is being sued for using anthemic Rocky III theme Eye of the Tiger at campaign events for the past few years. While the suit is news, I'm still trying to wrap my head around a guy named "Newt" using a theme song whose title begins "Eye of…"
A company owned by one of Survivor's founding members filed suit against Gingrich on Monday, seeking an injunction barring the candidate from using the song, plus damages "to be determined by the court."
From CBS News' Political Hotsheet blog:
The lawsuit, which is here, was filed in Chicago by Rude Music Inc., which is owned by one of Survivor's founding members, Frank M. Sullivan III. Sullivan co-wrote the song, which was the theme of the movie Rocky III and became a #1 hit in 1982.

The suit says Gingrich violated copyright by using the song in appearances dating back at least to 2009, including in appearances at campaign events and at the Conservative Political Action Conference. CPAC is hosted by the American Conservative Union, which is also named in the lawsuit.

…The lawsuit – which says "Mr. Gingrich is sophisticated and knowledgeable concerning the copyright laws" and notes the former speaker is the author or co-author of more than 40 copyrighted works – seeks a court-ordered ban on Gingrich using the song as well as "damages in an amount to be determined by the Court" from Newt 2012 Inc.
Gingrich, whose campaign currently resembles Rocky inspiration Chuck "The Bayonne Bleeder" Wepner more than anything else, could use a little eye of the tiger to withstand the pounding he's been taking from Florida frontrunner Mitt Romney's SuperPACs, and from his rival's official campaign, as well.
All kidding aside, the suit does illustrate some of the pitfalls surrounding the recently-defeated (for now) Stop Online Piracy Act, which critics say could enable large corporations to censor websites that post copyrighted material, even unwittingly. The CBS report includes a video of Gingrich emerging at the Conservative Political Action Conference last year, which could result in a shutdown of CBS' website under SOPA, if the measure's critics are right. The notion that this video somehow hurts the commercial prospects of the song, as if someone's going to put Gingrich's intro onto their favorite 80s mixtape, is ludicrous.
Since there's no SOPA now, though, please enjoy Gingrich's CPAC entrance, and don't be a cheapskate: go buy the song on iTunes. It's not like Survivor has a super-deep catalog to rely on.
Have a tip we should know? tips@mediaite.com