Civil Rights Commission Official: GOP Using Black Panthers To 'Topple' Obama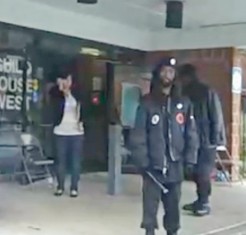 Is the Civil Rights Commission investigation into allegations of voter intimidation against the New Black Panther Party merely an excuse for the GOP to attempt to topple the Obama administration? That's what Abigail Thernstrom, the Vice Chair of the Civil Rights Commission — the very commission charged with investigating the charges — thinks.
Here's what Thernstrom, "a scholar whom President George W. Bush appointed as vice chairwoman of the U.S. Commission on Civil Rights" who "has a reputation as a tough conservative critic of affirmative action and politically correct positions on race" told Ben Smith at Politico:
"This doesn't have to do with the Black Panthers; this has to do with their fantasies about how they could use this issue to topple the [Obama] administration," said Thernstrom, who said members of the commission voiced their political aims "in the initial discussions" of the Panther case last year.

"My fellow conservatives on the commission had this wild notion they could bring Eric Holder down and really damage the president," Thernstrom said in an interview with POLITICO.
Oof. And this from Linda Chavez, president of the Center for Equal Opportunity and a Fox News contributor.
"Because it's 24-hour news and cable news and Fox News — this is the kind of story, like the ACORN story, that's got pictures that you can run over and over again."
The questions about the lack of mainstream attention for this story has made its way to the Washington Post's ombud page where Andrew Alexander notes "coverage is justified because it's a controversy that screams for clarity that The Post should provide." One suspects this added element of criticism from inside the commission might be just the sort of thing that will justify propelling the story front and center.
Have a tip we should know? tips@mediaite.com