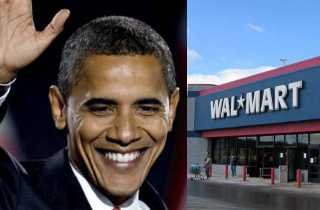 Samuel Rawlings Walton, heir to Wal-Mart, the largest retailer in the world traditionally known for its support of Republican causes, has given a big donation in support of Barack Obama's candidacy.
According to the Washington Times, the pro-Obama super-PAC Priorities USA raised $15 million in September, including $1 million from filmmaker Steven Spielberg and $300,000 from the Wal-Mart heir.
Washington Examiner columnist Tim Carney writes that the latter donation may be "surprising" because the Walton family tends to support Republican causes, and because "the conventional wisdom is that megacorps like Wal-Mart are a Republican thing."
But Carney wisely points out the plethora of reasons why the Walton family would support the Obama presidency:
"Wal-Mart endorsed the employer mandate in ObamaCare," he notes. This fact stunned many when it was revealed, but as Carney writes, the health insurance mandate "gives Wal-Mart an advantage by crushing smaller competitors" who cannot absorb the costs as well as the giant corporation.
"Wal-Mart has profited from Dodd-Frank," Carney continues, noting that the 2010 bill "fixes the price Wal-Mart has to pay banks for processing debit cards," benefiting the company's bottom line enormously.
"Wal-Mart has lobbied for and profits from higher minimum wage," he continues, nodding to the fact that the seemingly benign policy helps put Wal-Mart's smaller competitors out of business by raising their labor costs.
Finally, Carney notes something I've mentioned before: Despite being seen as the paragon of a free market capitalist corporation, "Wal-Mart is a top beneficiary of eminent domain takings," a policy with bipartisan support that has become the tell-tale symptom of Big Business in bed with Big Government — the opposite of a free, competitive market.
"So, yes, Mitt Romney is cozy with Big Business and big donors," Carney concludes. "But don't pretend Obama is any different."
— —
>> Follow Andrew Kirell (@AndrewKirell) on Twitter
Have a tip we should know? tips@mediaite.com