Want To Know How You Can Have Your Voice Heard in This Administration? Try This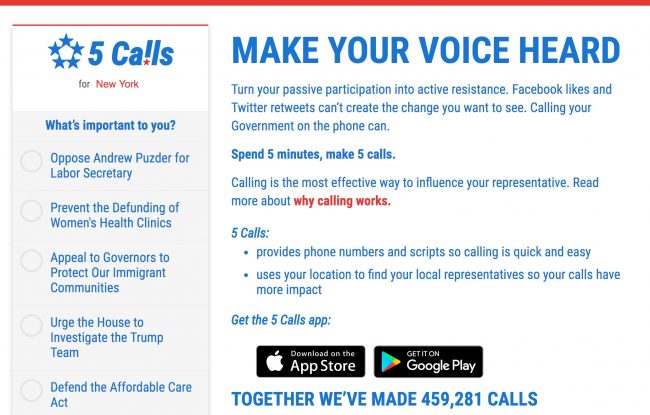 As evidenced by the various marches and protests that have happened — and are still planned for the coming weeks and months — a lot of people are nervous about this administration and what it could do to undocumented individuals, Muslims, the LGBT community, women, and more. If you're feeling uneasy or even helpless, you may wonder what you can do beyond protesting and marching, so here is a resource for you.
Use 5calls.org.
You already know that calling your representatives is the best way to reach them and make your voice heard. Don't buy it? North Dakota's Senator Heidi Heitkamp chose to vote against the confirmation of Betsy DeVos after receiving 1,400 phone calls on the issue. Ninety-five percent of those calls urged her to vote against DeVos. Calling representatives makes such an impact because there are dedicated staffers whose job it is to answer the phone and tally up how many people are in favor or against it a certain issue.
There is little doubt that making calls works, but there is plenty of doubt about what to say, who to ask for, and where to even begin. That's what 5calls.org is for. Type in your location, and it offers a list of topics you might care about. From there, you select five of them, the site gives you the script and the phone numbers for your representatives, you make the calls and read the scripts, and you're done.
Then, you do it again the next day.
The site says this:
5 Calls does the research for each issue, determining out which representatives are most influential for which topic, collecting phone numbers for those offices and writing scripts that clearly articulate a progressive position. You just have to call.
So, say that you're a New Yorker interested in urging the house to investigate Donald Trump's administration after all that's happened with Mike Flynn. 5calls gives you the script and the number for Representative Carolyn B. Maloney, as she is the local rep most likely to be receptive to that message.
You know that quote about how the journey of a million miles begins with a single step? That's not totally wrong. 5 Calls itself assures that you'll "spend five minutes" making the calls every day. It doesn't take long but you will definitely feel like you're making a difference — because you will be.
[image via screengrab]
Have a tip we should know? tips@mediaite.com