WaPo Fact Checker Gives Bernie 'Four Pincocchios' For Claiming He Released Tax Returns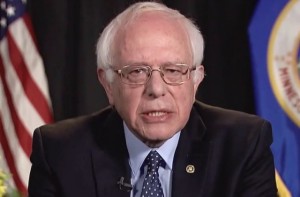 After Bernie Sanders claimed during a Sunday interview with CNN's State of the Union that he has released his federal tax returns in the past, The Washington Post fact-checked that claim and found it wanting.
"Hillary Clinton has posted on her website the last eight years of her personal returns, all of the returns," host Jake Tapper noted. "Before the New York primary, will you match her? Will you post your full returns for the last eight years?"
"There ain't going to be very much exciting in that," Sanders replied. " I get a salary from the United States Senate, you know, there's not going to be anything new in it that people haven't seen for the last many years, but we will get it out as soon as we can."
"But nobody has seen them at all I guess is the point, and whether or not there's anything exciting in them…" Tapper began.
"No, that is not true," Sanders said. "That is not true. Of course, we have released them in the past."
But WaPo's Michelle Ye Hee Lee looked into Sanders' history of releasing tax returns, and found that he was massively exaggerating. "Plainly put, Sanders has not released his full federal tax return," she writes.
"The little he has released was the Form 1040 in 2014, which is a summary of his tax filing that gives a snapshot of his finances…" she continues. "That's not the same as a full federal tax return — and as a longtime member of Congress, Sanders should know that."
In the end, Sanders earned Four Pinocchios, the worst rating on Washington Post's scale. "Sanders is not required to release his tax filings, and he clearly decided to keep them confidential. That's his choice. But it doesn't excuse him from misleading the public to believe otherwise with this false claim," Lee concludes.
[Image via screengrab]
——
>>Follow Alex Griswold (@HashtagGriswold) on Twitter
Have a tip we should know? tips@mediaite.com