WaPo Spotlights Pro-Trump Tennessee Town Where 'They Never Stopped Saying Merry Christmas'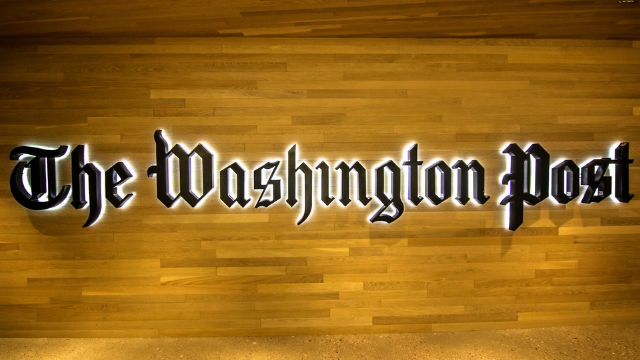 President Trump keeps claiming that he helped bring "Merry Christmas" back, even though it never really went away, but yesterday the Washington Post gave us a profile from Linden, Tennessee, where "they never stopped saying 'Merry Christmas.'"
According to WaPo, people in Linden have always said Merry Christmas and some of them are bothered by people saying other things:
"We've always said 'Merry Christmas,' " said Melissa Cobb, 48, a local hairstylist wearing dangling cross earrings, who voted for President Trump and gathered before the parade with fellow church members and clients in the beauty salon where she works. She added that no one in the town has ever been offended by her saying the phrase.

"It offends me," she continued, "to see at the stores, where they just do 'Happy Holidays' or 'Seasons Greetings.' It should be 'Merry Christmas.' Put Christ back into Christmas. That's what it's supposed to be. . . . I just wish we would all get on the same page."
Another woman said, "We can't say 'Christmas,' because there's too many Muslims and Buddhists and Hindus, and it offends them. I think they should keep Christ in Christmas, which is what they said originally, and to heck with anybody that don't like it. Anybody that's Muslim or Hindu or Buddhist, let them do what they want to do, but don't criticize those that want to keep Christ in Christmas."
And yet another resident praised Trump for having the "strength and gumption" to be able to say "Merry Christmas" without worrying about consequences.
Now, this being another profile of Trump supporters, a lot of people didn't see the point and knocked WaPo over it:
In the Obama White House, a complex with a couple thousand professionals, we had about 20 Christmas parties with a manger scene and a tree lighting with Santa every year. But if we said "Merry Christmas" out loud, we were thrown in the dungeon by Obama's secret police. https://t.co/yqvZezhJej

— Cody Keenan (@codykeenan) December 24, 2017
OMG, what a weird frickin' coincidence! Locals never stopped saying "Merry Christmas in New York or Los Angeles or at least 1000 other cities, either! Even where they didn't vote for Trump! How can this be?! https://t.co/B9TVl7G50h

— Randi Mayem Singer (@rmayemsinger) December 24, 2017
what an embarrassing waste of time https://t.co/qNpRla85bz

— sebastian gawker (@libbycwatson) December 24, 2017
At this rate every single individual Trump voter will have been offered a profile just in time for Election Day 2020 https://t.co/64gendutDn

— Arthur Chu (@arthur_affect) December 25, 2017
Literally nobody did anywhere; why indulge the appetites of people who feast on lies? https://t.co/KNnWh3xKyS

— Brian Beutler (@brianbeutler) December 24, 2017
Why did you do this https://t.co/xYgqAcHtUz

— Tom Scocca (@tomscocca) December 25, 2017
Even though Obama routinely said and tweeted "Merry Christmas," Trump is successfully re-writing history to make it seem as if he didn't. And he's getting away with it, which is infuriating. https://t.co/OiBK2FLp0X

— Jonathan Alter (@jonathanalter) December 25, 2017
In fact, last December we got an important clarification that "America never stopped saying 'Merry Christmas.'" That clarification came from… the Washington Post.
[image via Nicole S Glass / Shutterstock.com]
— —
Follow Josh Feldman on Twitter: @feldmaniac
Have a tip we should know? tips@mediaite.com
Josh Feldman - Senior Editor