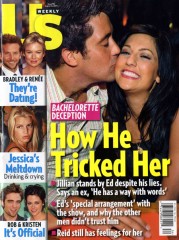 Women's Wear Daily reports that Us Weekly had a fine first week under Michael Steele, who filled in as the magazine's acting editor-in-chief after Janice Min's departure in July. Steele's first issue as acting EIC, which featured a cover story on Bachelorette cheating drama, "sold 1.1 million copies, outpacing Us Weekly's single-copy sales by an average of 843,470 for the first half of 2009."
One issue does not make a mandate: it remains to be seen how the gossip mag will do in the post-Janice era and whether Steele will be tapped for the position permanently. Still, it looks like Jann Wenner may have been right when he wagered that Us Weekly could flourish without Min. Min played a major role in rebranding the magazine as the place to go for "edgier, newsier celebrity journalism," as the AP put it, but the brand may have outgrown her. She reportedly left Us Weekly because Wenner wouldn't renew her $2 million a year contract; as a celebrity magazine source told WWD, "[Wenner] thinks the star of Us Weekly is the magazine, not Janice."
A magazine industry insider told Mediaite by e-mail that Steele is a "very mild mannered guy, not a strong personality. also not what you'd automatically consider leadership material. one of those guys who you kinda wonder if they just got on the wrong line & ended up in media by accident." Considering Steele's competent handling of his first issue, that last sentence sounds a trifle harsh. The New York Post asks, rightly, whether Wenner will "erase the 'Acting' in front of Steele's title" if he keeps up his good performance.
In an internal memo, Wenner praised Steele as "a quiet and steady presence who has proven adept at both editing and managing" and "my one and only choice" for the position of acting editor-in-chief. Steele may not be a capital-P Personality in the same way that Min was, but it's a sign of the wrongheadedness of the magazine industry that so many  assume that one must be a celebrity to be a worthy editor.
At that, Janice Min no longer has to work for the notoriously prickly Wenner. Everybody wins!
Have a tip we should know? tips@mediaite.com