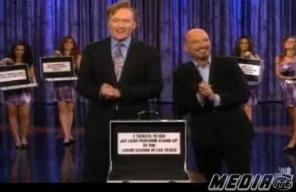 The question has to be asked – was this the last time The Tonight Show with Conan O'Brien will air? Because NBC can't afford to have Conan O'Brien go rogue on a nightly basis like he did tonight.
Let's explore the carnage and search for morsels of funny buried in the peacock feathers.
"My name is Conan O'Brien and I may soon be available for children's parties," said O'Brien to start the monologue. He hit NBC hard immediately, saying they are "no longer just screwing up prime time," and "When I was a little boy, I remember watching the Tonight Show with Johnny Carson and thinking, 'Someday I'm going to host that show for seven months.'"
His first bit was about how the rest of the world somehow cared about the "programming changes at NBC." Clips of Qaddafi, Ahmadinejad, Castro aired, with related subtitles (apparently Qaddafi didn't think Leno at 10pm was working for him).
There were also the asides. Mentions of NBC ended with O'Brien muttering sarcastically "they're good people, they're very good people."
Then came a surprise cameo – Howie Mandel. What did NBC Entertainment think of one of its biggest stars coming on to explore Conan's options through a mock Deal Or No Deal segment (video below)? "This makes about as much sense as anything else these days," said O'Brien.
Models came out with six different briefcases for O'Brien to chose (although as Mandel noted, NBC must have fired the real models), and he selected one. What was in his briefcase? "Two tickets to see Jay Leno perform stand-up at the Luxor Casino in Las Vegas."
One of O'Brien's writers, Deon Cole, who does periodic stand-up on the show, came out in the next block to explain how Conan was getting pimped.
NBC is a big pimp and its got four hos. Meaning late night hosts. Leno is a bottom ho which is the one that's been around the longest. Conan is the pretty ho. Jimmy Fallon is the young ho. And Carson Daly is the, uh, freak ho. Now NBC is trying to keep all they hos because a pimp don't want to see its hos go with another pimp.
Damn, Carson Daly gets no love.
Then it was time for Tom Brokaw, the elder statesman of NBC News, to come on as first guest. Here's a quick analogy: in 2004, Brian Williams took over NBC Nightly News and Brokaw stayed with the network. But seven months later, what if Williams' ratings weren't as good and they decided to put Brokaw back in the anchor chair and move Williams back to MSNBC? That probably wouldn't make BriWi very happy.
Some of Brokaw: "I feel like the crazy old family uncle that they wheel out of the nursing home, promising they're going to have a really good time at the family reunion and I get here and I'm in the middle of the Jon & Kate show." (NBC-related portion of the Brokaw interview is below.)
Well, apparently tomorrow Ricky Gervais is the guest – and he certainly won't be afraid to knock NBC a bit (the network that airs his creation, The Office). But as Conan joked to Andy Richter, they may "film it in our yard."
This was a mini-mutiny of NBC stars tonight, with Brokaw and Zach Levi (from Chuck) as guests, Mandel in a cameo and even the SNL promos for this week's show taking a shot at NBC executives trying to move the show to 2am. Start to finish, it was knocks at NBC – all, of course, on NBC.
How long can NBC handle this? More importantly, how long can Comcast handle this? Will FOX continue to stir the pot? And will someone finally say something nice about Carson Daly? We'll have to wait until tomorrow to know about tomorrow's Tonight.
It's Deal Or No Deal, Tonight Show-style:


Tom Brokaw, "news ho":


—–
» Follow Steve Krakauer on Twitter
Have a tip we should know? tips@mediaite.com