Washington Post Adds Massive Editor's Note to Story Blaming Russia for Fake News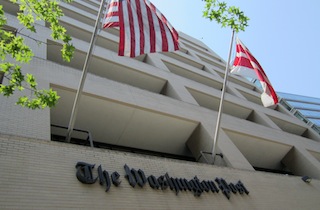 A November 24 story by The Washington Post that earned massive attention for its claim that Russian "fake news" may have influenced the 2016 presidential election has been updated to included a lengthy editor's note acknowledging criticism of the piece.
The piece claimed that the myriad of "fake news" seen during the election was not simply a product of cynical cash-grabbers looking for clicks, but an intentional disinformation campaign by the Russians. One of the "experts" cited to reach that conclusion was "PropOrNo," described by The Post as "a nonpartisan collection of researchers with foreign policy, military and technology backgrounds."
But many of the news sources named as proproprietors of Russian propaganda by PropOrNot were incensed that the Post passed along those claims. Among their complaints was the fact the team behind PropOrNot has never revealed their actual identies, and that they listed some sites as "Russian propaganda" based on only a single story they believed "aligned" with Russian interests. Websites listed as "propaganda" included widely-read conservative sites like The Drudge Report and left-wing outlets like The Intercept and TruthDig.
While not quite a correction, the Post updated the piece two weeks later with a massive note above the text, making it clear that they could not vouch for PropOrNot's claims about any specific media outlets:
Editor's Note: The Washington Post on Nov. 24 published a story on the work of four sets of researchers who have examined what they say are Russian propaganda efforts to undermine American democracy and interests. One of them was PropOrNot, a group that insists on public anonymity, which issued a report identifying more than 200 websites that, in its view, wittingly or unwittingly published or echoed Russian propaganda. A number of those sites have objected to being included on PropOrNot's list, and some of the sites, as well as others not on the list, have publicly challenged the group's methodology and conclusions. The Post, which did not name any of the sites, does not itself vouch for the validity of PropOrNot's findings regarding any individual media outlet, nor did the article purport to do so. Since publication of The Post's story, PropOrNot has removed some sites from its list.
[Image via Shutterstocl]
—
>>Follow Alex Griswold (@HashtagGriswold) on Twitter
Have a tip we should know? tips@mediaite.com