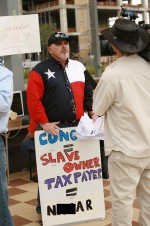 According to a press release, self-described "Tea Party Founder" Dale Robertson has joined the Washington Times' "Tea Party Report" blog. Robertson, you may recall, was thrust back into the limelight in March, when he was quoted by the paper as never having seen any racial slurs at Tea Parties, despite having been photographed holding a sign that featured the N-word. He told us the photo was a fake, which our expert then disputed, before a sea of journalists came forward to point out that Robertson had already admitted to holding the sign. Update: The Times has pulled the column, but Robertson has also popped up on The Hill.
Robertson's critics within the Tea Party paint him as a pure opportunist who did nothing more than try to squat on Tea Party domain names to turn a quick buck. He did try, unsuccessfully, to sell his website (Teaparty.org), but he says it was to defend against attacks on him by the Republican establishment.
If Robertson is an opportunist, he's not a very good one. He seems to be joining the Tea Party Report just as interest in the actual movement is cooling. They exist now more as a voting bloc than a news story with moving parts.
Furthermore, the press release is from Robertson's PR flack, not the Washington Times'. It's not even clear that this is a paid gig, rather than another attempt by Robertson to market himself as a Tea Party Leader. The Tea Party Report "is written and edited by William J. Kelly and Laura Grock. Kelly also pens Bill Kelly's Truth Squad for the Washington Times. We welcome all Tea Party leaders and enthusiasts to send us their news, opinions, and stories."
At any rate, the Washington Times has never shown any qualms about Robertson, repeatedly quoting him in news stories as a Tea Party leader.
I reached out to the Tea Party Report for comment, and am awaiting a reply.
In pulling together links for this story, I was reminded that Dale Robertson, intentionally or not, wrote one of the funniest things I've ever read in the "About" section of his website, and I just had to re-immortalize it here. In describing the adversity he faced at his first protest, he said this: (emphasis mine)
I had brought my picnic table and chairs knowing this would not be easy, parking would be difficult, staying alive even harder.
Have a tip we should know? tips@mediaite.com