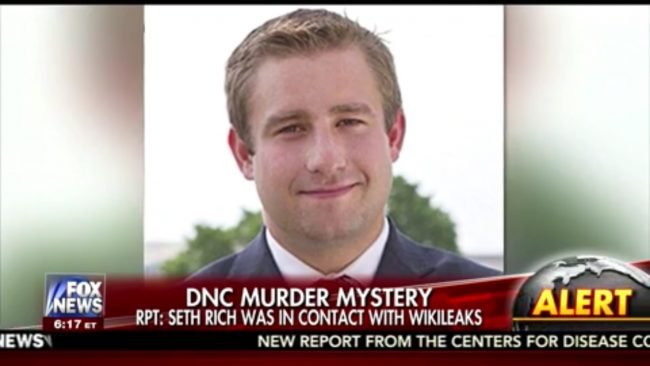 The Washington Times issued a hefty retraction and apology in its Monday paper to a now-deleted story from March 2018 pushing the Seth Rich conspiracy theory.
Rich, a DNC staffer who was fatally shot in July 2016, quickly became the subject of right-wing conspiracy theories that claimed he was the victim of a hit job carried out by Democratic leaders — namely, Hillary Clinton — after he stole DNC emails and passed them to Wikileaks. Despite relying on no evidence and having no basis in reality, the theory made its way all the way up to Fox News primetime (Fox News retracted their own story about Seth Rich in 2017.)
The Washington Times published an editorial — "More cover-up questions: The curious murder of Seth Rich poses questions that just won't stay under the official rug" — in March 2018, written by James A. Lyons, a 90-year-old retired U.S. Navy Admiral.
"The Column included statements about Aaron Rich, the brother of former Democratic National Committee staffer Seth Rich, that we now believe to be false," the retraction read.
The retraction came as part of a settlement with Aaron Rich, CNN reported.
One of the statements from the editorial that the retraction announced was false was Lyons' claim that "it is well known in the intelligence circles that Seth Rich and his brother, Aaron Rich, downloaded the DNC emails and was paid by Wikileaks for that information."
"The Washington Times now does not have any basis to believe any part of that statement to be true, and The Washington Times retracts it in its entirety," the retraction said. It's unclear how the paper is only coming to that realization now.
Lyons also wrote: "Also, why hasn't Aaron Rich been interviewed [by law enforcement], and where is he?"
"The Washington Times understands that law enforcement officials have interviewed Mr. Rich and that he has cooperated with their investigation," the retraction said. "The Washington Times did not intend to imply that Mr. Rich has obstructed justice in any way, and The Washington Times retracts and disavows any such implication."
"The Washington Times apologizes to Mr. Rich and his family," the retraction concluded. "All online copies of the Column have been deleted and all online content referencing the Column has been deleted to the extent within The Washington Times' control."
Have a tip we should know? tips@mediaite.com
Aidan McLaughlin - Editor in Chief