Timeline of Lawsuit Accusing Fox News of Fabricating Seth Rich Conspiracy Report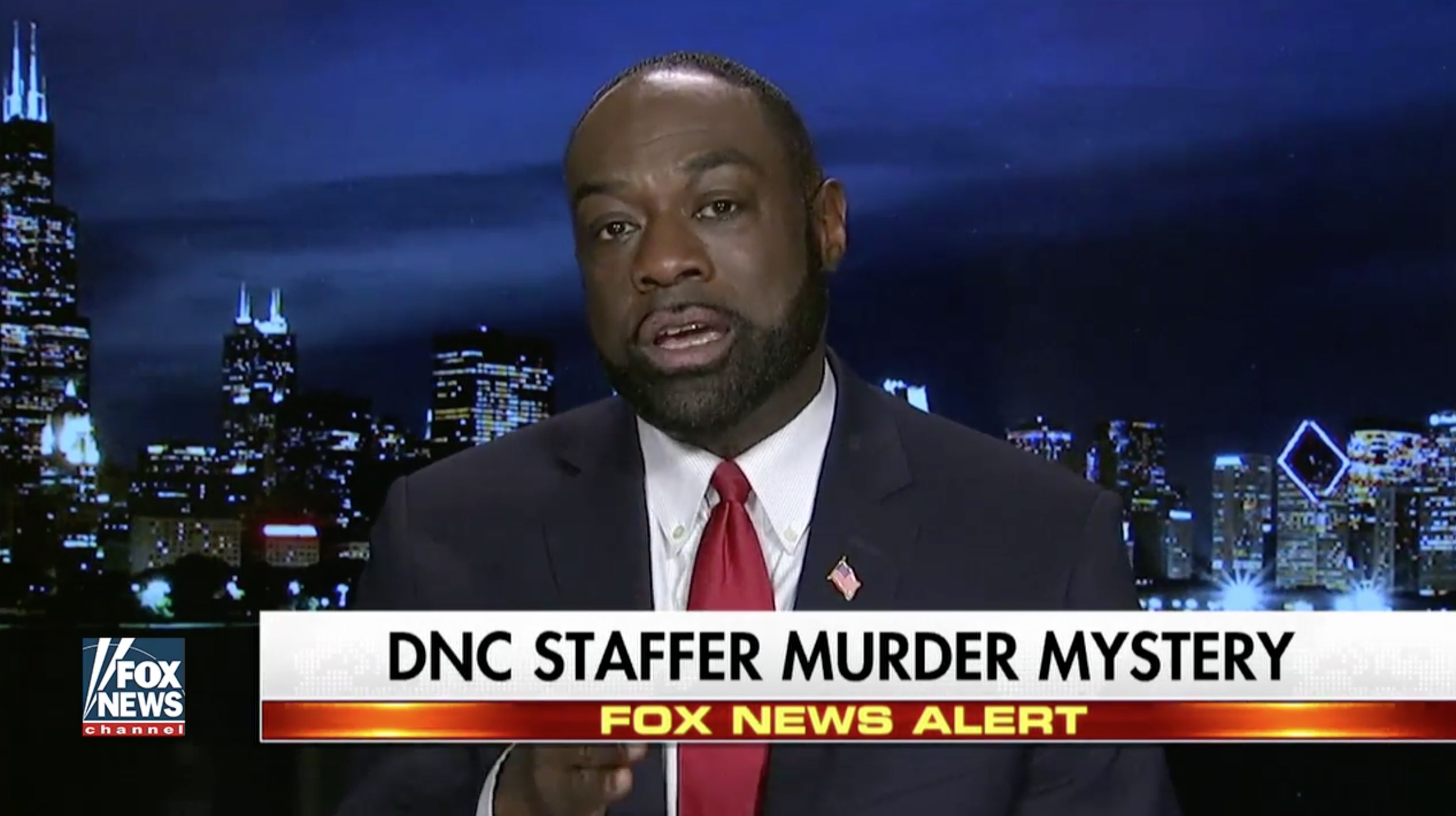 A Fox News reporter and a wealthy pro-Trump investor conspired to fabricate the infamous and now-retracted report claiming to have evidence that slain DNC-staffer Seth Rich was murdered because of his contact with Wikileaks — all under the supervision of the White House.
That's the explosive allegation made in a lawsuit by Rod Wheeler, a Fox News contributor and private investigator who was quoted in the retracted story as claiming to have an FBI source with evidence of emails exchanged between Rich and Wikileaks.
NPR's David Folkenflik broke the news of the lawsuit Tuesday morning, and provided an extensive report detailing its contents — which implicates everyone from Sean Spicer to President Trump as being involved in the report.
Wheeler's lawsuit (read it here) accuses two people: Malia Zimmerman, a Fox News reporter, and Ed Butowsky, a wealthy Trump supporter, as having orchestrated the fabrication of the report that Rich passed on the hacked DNC emails to Wikileaks.
Wheeler's lawsuit claims that the report was intended to undermine the notion that Trump's campaign colluded with Russia. Indeed, the debunked report sought to prove that Rich was the source of DNC emails passed on to Wikileaks — as opposed to Kremlin-backed hackers, as U.S. intelligence agencies have concluded.
The whole saga is extensive and complex — to understand it all, here is a timeline of the events, as per Wheeler's lawsuit:
June 22, 2016: Wikileaks releases 22,000 emails from the accounts of DNC officials.
July 10, 2016: Rich, a 27-year-old DNC staffer, is fatally shot in Washington D.C. in what police believe to be a botched robbery.
August 9: Wikileaks's Julian Assange appears on Dutch television to suggest Rich was the source of the DNC emails sent to Wikileaks — fueling online chatter about the conspiracy theory.
February: Ed Butowsky reaches out to the Rich family, and offers to fund a private investigation in Seth's murder. The family accepts.
February 23: Butowsky introduces himself to Rod Wheeler, who he knew of through Fox News, and offers to pay the investigator to pursue the murder theory. Butowsky also told Wheeler he was working with Malia Zimmerman, who was conducting her own investigation as a reporter for Fox News.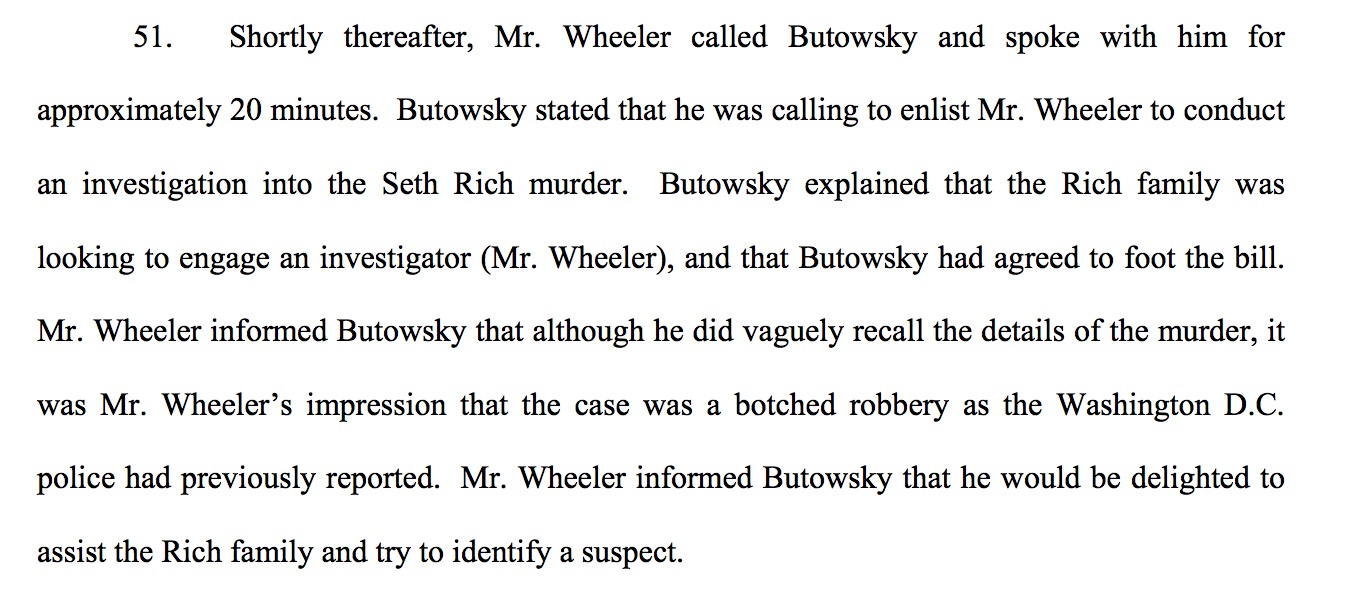 March 14: The Rich family formally retains Wheeler to investigate the murder. Butowsky wires Wheeler $5,000 as payment for the investigation using a bank account under the name "GOOGIE, LP."
April 18: Butowsky texts Wheeler and invites him to a meeting at the White House with then-press secretary Sean Spicer to discuss the story.
April 20: Butowsky and Wheeler meet at the White House with Spicer "and provided him with a copy of Mr. Wheeler's investigative notes." Spicer asks to be kept up to date with developments.
April 25: Wheeler meets with Detective Della-Camera, the lead homicide detective on the Rich case. The night before, Butwosky had emailed Wheeler, writing: "Della camera is either helping us or we will go after him as being part of the coverup."
Della-Camera refutes the conspiracy theory to Wheeler, re-iterating that the murder was likely the result of a botched robbery.
May 9: President Trump fires FBI director James Comey, who was conducting a federal investigation into Russian election meddling. Progress on the story begins the accelerate from here.
May 10: Butowsky and Zimmerman call Wheeler to claim they have an FBI source with evidence of emails between Rich and Wikileaks.
May 11: Zimmerman sends a draft of her story on the murder to Wheeler. The draft does not contain any quotes from Wheeler claiming to have evidence of contact, nor alleging a cover-up.
May 14: Butowsky leaves a voice message on Wheeler's phone, claiming: "A couple minutes ago I got a note that we have the full, uh, attention of the White House, on this. And, tomorrow, let's close this deal, whatever we've got to do."
Moments later, Butowsky sends a text message to Wheeler claiming President Trump had read a draft of the story, and "wants the article out immediately":
May 15: Butowsky sends an email to Fox & Friends anchors Ainsley Earhardt, Steve Doocy and Brian Kilmeade telling them that the soon-to-be published story proves that there was no collusion between the Trump campaign and Russia.
He also texts Wheeler to emphasize that the report "puts the Russian hacking story to rest":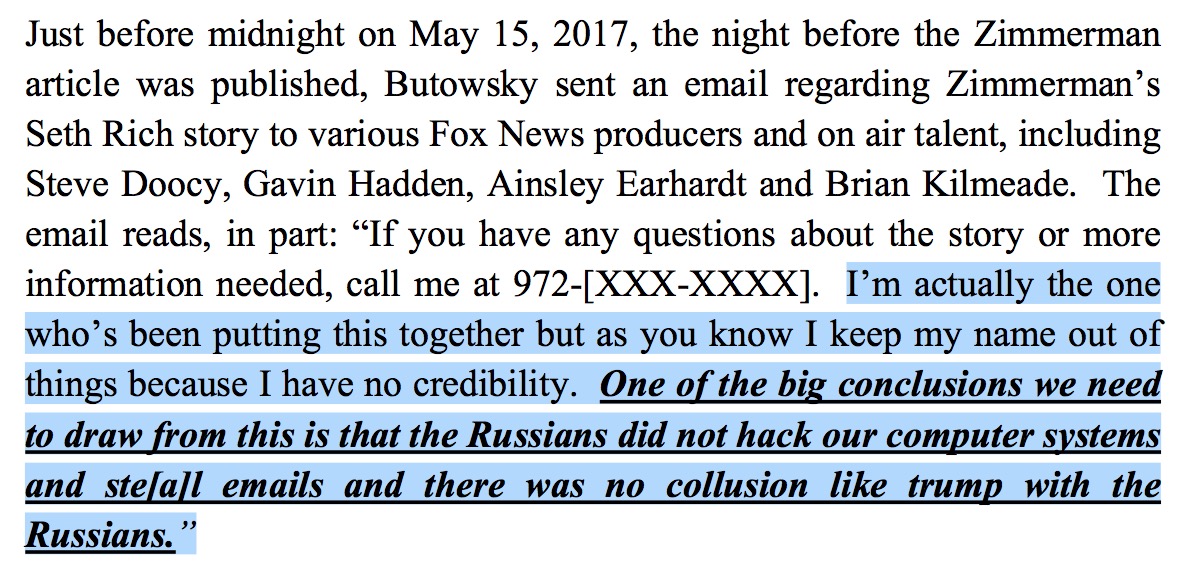 May 16: In the early morning, Zimmerman's story is published on FoxNews.com. It includes quotes from Wheeler claiming to have evidence of contact between Rich and Wikileaks — quotes Wheeler later claimed he never provided.
Fox & Friends covers the report on their morning broadcast, with the chyron "DNC MURDER BOMBSHELL". A video interview of Wheeler runs in which he claims to have FBI sources with information linking Rich to Wikileaks.
A spokesman for the Rich family condemns the Fox News report, accusing media outlets of trying "manipulate the legacy of a murder victim in order to forward their own political agenda."
Shortly after, Wheeler calls Butowsky to demand "an explanation for the false statements about him in Zimmerman's article."
Butowsky replies that "the quotes were included because that is the way the President wanted the article."
Wheeler also calls Zimmerman to demand the quotations be removed from her story. She accepts, but never actually removes the quotes, eventually citing protests from her bosses at Fox.
In an audio recording transcribed in the lawsuit and provided to Folkenflik, Wheeler confronts Zimmerman and Butowsky over the fabricated quotations. Wheeler argues that "much, much of the information did not come from me" — and Zimmerman acknowledges: "Not about the emails. Not the part about, I mean, the connection to WikiLeaks."
"But the rest of the quotes in the story did," she adds.
"One day you're going to win an award for having said those things you didn't say," Butowsky says.
Zimmerman later texts Wheeler, who is set to appear on Hannity that night, to "Reread the story we sent you last night [that contained the invented quotes] and stick to the script."
Wheeler appears on Hannity and touts the conspiracy theory, claiming that while he has never "seen the emails directly," he claimed to know a "very credible" federal investigator who "laid eyes on [Rich's] computer." Federal authorities have repeatedly denied ever possessing Rich's laptop.
May 17: Fox 5 DC, the local network that first ran Zimmerman's story, reports that Wheeler has "backtracked" his claims about Rich.
May 23: Fox News retracts the story. A statement released claimed "article was not initially subjected to the high degree of editorial scrutiny we require for all our reporting."
Earlier in the day, the parents of Seth Rich published an op-ed in the Washington Post asking media outlets to "stop politicizing" their son's murder.
August 1: NPR breaks the news of Wheeler's lawsuit.
[image via screengrab]
—
Follow Aidan McLaughlin (@aidnmclaughlin) on Twitter
Have a tip we should know? tips@mediaite.com
Aidan McLaughlin - Editor in Chief