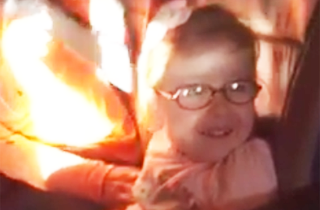 With all the bleak news out there, it's nice to occasionally remind ourselves that the world ain't so bad. Take for instance this video of an entire Southwest Airlines flight not only singing "Happy Birthday" to a disabled 4-year-old girl, but somehow managing to turn the entire plane into a "birthday cake," using flight attendant call buttons as the "candles" for her to blow out.
It's a clever way around the fact that you can't bring candles (or matches) onto a plane, but Mazzy, a four-year old suffering from spina bifida, seemed to be thrilled with her plane cake and impromptu birthday crown. According to the caption accompanying the post, Mazzy's sister told the crew that it was her birthday, hoping to get a flight attendant pin.
Needless to say, she scored much more than that.
Here's how her father, Brein Bjorson Marzano, recounted the story on Facebook:
So I'll start out by telling you that my 4 year old daughter Mazzy has Spina Bifida leaving her paralyzed (very low function) from the chest down. Its not so easy to travel. Today we flew home from a wonderful vacation from Tampa to Pittsburgh and it just so happened to be Mazzys birthday. Her big sis Birkly insisted that I tell the crew so that maybe they would give Mazzy a "wing pin." Well they far exceeded her expectations. We cannot begin to thank you and your crew enough for going above and beyond! All the crew and passengers on our plane sang Happy Birthday to mazzy. They made everyone shut their windows and turn on their overhead lights to pretend they were candles for her to blow out. They made her a cake out of toilet paper and a princess crown out of pretzels!!! The coolest thing ever! Thank you Southwest for giving our special girl such a special day!! I said was that the coolest thing and she said "ever in mine whole life!" #foreverflyingsouthwest
And he posted video of the heartwarming incident. Click below to watch that: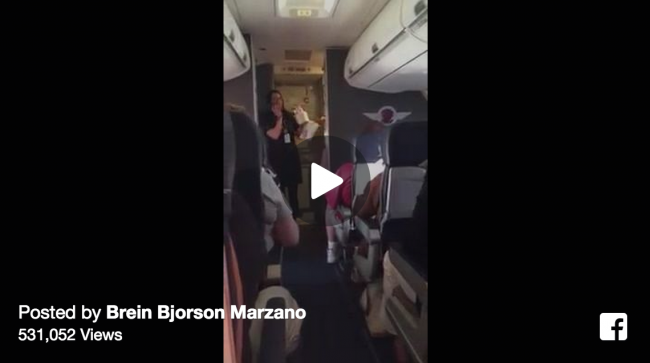 —
Have a tip we should know? tips@mediaite.com