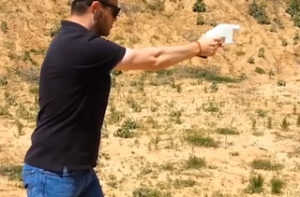 Who needs a background check when you can just print your own gun in the comfort of your own home? That's just one of the many questions to arise from the latest product created by Defense Distributed, a non-profit based in Texas. The organization has reportedly invented the world's first 3D-printed gun, and released a video of the product in action over the weekend.
Defense Distributed founder Cody Wilson, the 25-year-old behind the project, told Forbes, "I recognize that this tool might be used to harm people. That's what it is: It's a gun. But I don't think that's a reason to not put it out there. I think that liberty in the end is a better interest."
Wilson plans to post printable blueprints on the group's website so that anyone with a 3D printer can create the gun on their own at home without going through any of the regulatory hurdles that do exist for purchasing firearms.
Rep. Steve Israel (D-NY) has been one of the most prominent opponents to the technology, saying in a statement:
"Security checkpoints, background checks, and gun regulations will do little good if criminals can print plastic firearms at home and bring those firearms through metal detectors with no one the wiser. When I started talking about the issue of plastic firearms months ago, I was told the idea of a plastic gun is science-fiction. Now that this technology is proven, we need to act now to extend the ban on plastic firearms."
Watch video below, via YouTube:
—
>> Follow Matt Wilstein (@TheMattWilstein) on Twitter
Have a tip we should know? tips@mediaite.com