Watch Jimmy Fallon With Jimmy Fallon: "Real-Time, Interactive, Director's Commentary"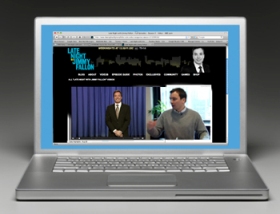 Jimmy Fallon's trailblazing new media innovation presence continues next week with a late night first – each night he'll live stream from his office while that night's show airs at 12:30amET.
Mediaite talked to Late Night Supervising Producer Gavin Purcell about the decision and what fans can expect.
Fallon will broadcast live on Ustream.tv (and Fallon's NBC website) during the show airings, with members of the show's staff, and potentially other guests, stopping by. "Jimmy and I had been talking about it for awhile," Purcell told Mediaite today. "Jimmy wanted to do stuff with live-streaming. It was just about finding a way to do it with show."
While it wouldn't work as well while the show was taping (around 5:30pmET), this solution allows fans to congregate on the web, with the show's host, while watching on TV. Purcell described it as a "Real-time interactive directors commentary."
"It's definitely something that hasn't been done before," he said. "It's an opportunity to talk with fans while the show's going on. So it just gives access in a way that we're always big fans of doing."
Besides fans of Fallon in general, late night junkies will appreciate hearing from writers, producers and directors reflecting on the action while its taking place. The tone (serious or light or some combination) is still up in the air – it all depends on how things go next week.
This continues to put Fallon ahead of the pack when it comes to late night web influence. It doesn't take long to see his appeal (2.5 million Twitter followers will do that), but his willingness to try something completely new, with the potential for mixed results, is what makes the show unique.
Is this web/TV crossover the future of television in general? We'll see how it goes next week…
—–
» Follow Steve Krakauer on Twitter
Have a tip we should know? tips@mediaite.com