WATCH: Airport Protests Grow at Int'l Airports With Cries of 'SHUT IT DOWN!' (UPDATED)
At international airports across the country today, scores of protestors have gathered with signs and chants in direct opposition to the newest executive order on immigration by President Donald Trump.
The executive action, signed Friday afternoon, took drastic steps in curbing immigration in Muslim-majority countries; it officially suspended the entry of refugees into the United States for four months, and all Syrian refugees are barred indefinitely. The response has been swift, with large crowds beginning to gather at New York City's JFK Airport before spreading to airports around the country.
Currently at JFK, eleven men are being detained despite landing in the United States with travel visas and green cards; the Muslim men are being held in Terminal 4 of the international airport, which is where thousands of people have gathered throughout the day. One detainee from Iraq — Hameed Khalid Darweesh, who helped the U.S. military as an Iraqi interpreter — was eventually released.
Take a look at some of social media's images and videos at airports around the country.
JFK – Queens, New York City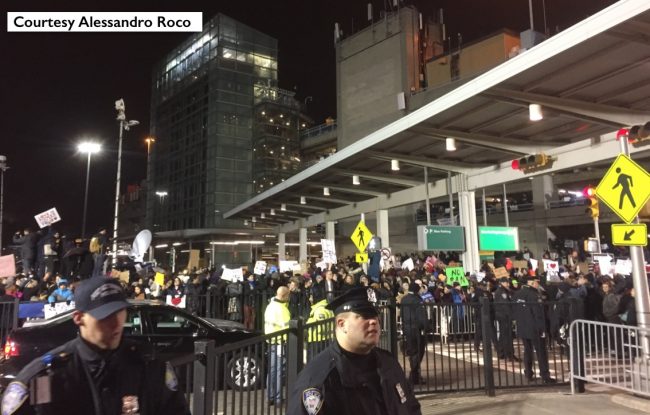 Oh look, it's the missing crowd from Inauguration Day protesting the #MuslimBan at JFK Airport! @CNNPolitics @MSNBC pic.twitter.com/oHMYIxRLr1

— PKNI (@pkni) January 28, 2017
#JFKTerminal4 #ThisIsWhatResistanceLooksLike pic.twitter.com/BJwxo5Szwq

— Libba Bray (@libbabray) January 28, 2017
NYPD JUST SHUT DOWN THE AIRTRAIN TO #JFKTerminal4. #NoBanNoWall #WeStandUnited #NotMyPresident #100DaysOfResistance #ResistTrump ??✊️?? pic.twitter.com/8HvCLQLWYL

— Tommie Sunshine (@tommiesunshine) January 28, 2017
NYPD now preventing people from accessing the train from subway to #JFKTerminal4 pic.twitter.com/4anAdlpNzw

— josh guild (@jbguild) January 28, 2017
.@realDonaldTrump this is the #resistance #JFKTerminal4 #queensvalues pic.twitter.com/CRDBtL3Wco

— Paul J. Cummins (@pauljcummins) January 28, 2017
Outside JFK T4 airtrain entrance pic.twitter.com/oyGAjI1zjO

— Sam Reisman (@thericeman) January 29, 2017
And JFK is not the only airport where crowds have gathered; liberal filmmaker Michael Moore among others has been using his wide-reaching social media feed to encourage scores of protestors to gather at their closest international airports to speak out against "this bigot."
San Francisco International Airport – California
Show of solidarity at SFO ✊?✊?✊? pic.twitter.com/Vcq7Vrh9IO

— ✨ Rachel Delphin ✨ (@RachyMills) January 28, 2017
#MuslimBanprotest at SFO right now: pic.twitter.com/f6sth77MEh

— Tatiana Sanchez (@TatianaYSanchez) January 28, 2017
Here to support refugees/immigrants/muslims – SFO. #resist #thisiswhatdemocracylookslike pic.twitter.com/NVX0Ozsemm

— Marty Yee (@mcyeemd) January 28, 2017
Washington Dulles International Airport – Virginia
Azam landed at IAD from Iran. She has a green card. She says she was ? for 4 hrs before being released. She's visiting her daughter Ellie. pic.twitter.com/pqZ22Vwoww

— Tisha Lewis FOX 5 DC (@TishaLewis) January 29, 2017
Love, not hate–that's what makes America great‼️✊?✊?❤️❤️ #Dulles #IAD pic.twitter.com/t8kgF0IYUz

— Gabi K Huesca (@gkhuesca) January 28, 2017
No hate, no fear, refugees are welcome here #IAD #Dulles✊?✊?✊? pic.twitter.com/KMfkaPGCL1

— Gabi K Huesca (@gkhuesca) January 28, 2017
O'Hare International Airport – Chicago, IL
Protestors are now marching outside of O'Hare's Terminal 5 pic.twitter.com/KRvPID6g7m

— Bob Marshall (@bobmarshall) January 29, 2017
Marching out of O'Hare pic.twitter.com/zxBZsjQtKV

— Sam Charles (@samjcharles) January 29, 2017
Blocking all lanes at O'Hare protest pic.twitter.com/75O0g43Fx5

— Matt Meshulam (@mattmeshulam) January 29, 2017
UPDATE: 9:34 p.m. EST: A New York federal judge has issued an emergency stay applicable to those detainees who are already here in the United States. While the ACLU champions the move as a widespread victory in the case, legal experts have been quick to point out that the stay is temporary and further action from the President can be taken.
Mass celebration breaking out at JFK pic.twitter.com/M64PpJPf1c

— eve peyser (@evepeyser) January 29, 2017
Have a tip we should know? tips@mediaite.com