Son of National Security Advisor Flynn Admits Newest Executive Order Is a 'Muslim Ban'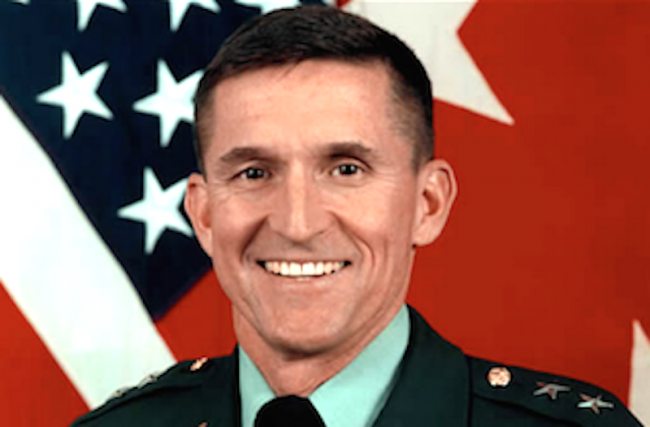 The conspiratorial son of our nation's National Security Advisor — whose social media behavior has created headaches for the administration before — took to his Twitter account to call the newest executive order a Muslim ban.
Of course, that is not how the President of the United States is phrasing it exactly; he told members of the media in the Oval Office Saturday, "It's not a Muslim ban, but we are totally prepared." But that didn't stop Michael Flynn Jr. from tweeting out the following message:
Making America Great Again! #MuslimBan #saturdaymorning #AmericaFirst @GenFlynn @realDonaldTrump https://t.co/fyn6JYpJf9

— Michael Flynn Jr (@mflynnJR) January 28, 2017
Flynn is the son of General Michael Flynn, one of the most controversial picks by Trump early in his transition process, who is also known to dabble in the realms of the conspiratorial from time to time. Much of the brouhaha surrounding #PizzaGate (remember that?) stemmed from Flynn Jr., who fanned the flames of the absurd theory writing, "Until #Pizzagate proven to be false, it'll remain a story," in early December.
But the administration of President Donald Trump is not calling their executive order a ban on Muslims in any way, despite the most jarring campaign promise he made while running for President. POTUS continued Saturday, "It's working out very nicely. You see it in the airports, you see it all over. It's working out very nicely and we are going to have a very, very strict ban and we are going to have extreme vetting, which we should have had in this country for many years."
The executive order, signed at 4:42 p.m. EST on Friday afternoon, blocked entry into the United States for citizens from these seven Muslim-majority countries: Iran, Iraq, Sudan, Syria, Somalia, Yemen, and Libya. Additionally, Syrian refugees are also suspended from entering the United States indefinitely, as well as other refugees for 120 days.
Although Flynn Jr. may seem like a bit part of a larger play unfolding, his actions have dogged the administration for months; after it was revealed that he has a transition email address, the Trump team was faced with endless questions about his role as a potential advisor to his father despite his personal questionable history on social media. Memorably, CNN's Jake Tapper corned then Vice President-elect Mike Pence on the issue, asking the former Indiana Governor the same question eight times about Flynn Jr.'s security clearance. The headlines off of that one interview alone were enough for the administration to take action and formally suspend Flynn Jr.'s email address, kicking him off of the Trump team altogether.
—
J.D. Durkin (@jivedurkey) is an editorial producer and columnist at Mediaite.
Have a tip we should know? tips@mediaite.com