WATCH LIVE: 'Western Tuesday' Primary and Caucus Results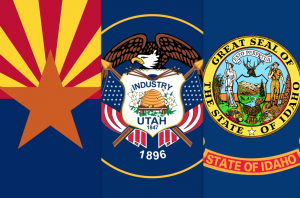 We've gone through Super Tuesday, Super Tuesday 2, Mega Tuesday, and now the branding overlords of the cable news world have manufactured the name for the next big day of voting conventions: Western Tuesday. Voters in Arizona, Utah, and Idaho will head to the polls for the next block of delegates up-for-grabs, though the story of the frontrunners continues to dominate.
On the Democratic side, former Secretary of State Hillary Clinton continues to expand her lead over Vermont Senator Bernie Sanders. The delegate and superdelegate count gives Clinton 1,630 to Sanders' 870 heading into Tuesday.
As for the GOP, Donald Trump continued his strong showing, sitting on 6880 delegates while Texas Senator Ted Cruz hold onto 424. After winning his home state, Ohio Governor John Kasich now has 143.
All of the main cable news networks will carry coverage from Tuesday's primary and caucus conventions.
FOX Business Network (FBN) will present live coverage of the primary results in Arizona, Utah Caucus, Idaho democratic Caucus and American Samoa Republican Caucus on Tuesday, March 22nd. FBN's Neil Cavuto will host a special edition of Cavuto: Coast to Coast with coverage and analysis as the results come in.
FOX News Channel (FNC) will provide special live coverage of the primary races in Florida, Illinois, Missouri, North Carolina and Ohio on Tuesday, March 15th. FNC's Bret Baier and Megyn Kelly will co-anchor America's Election Headquarters from 7-11PM/ET and break down the results during those hours. At 11PM/ET, FNC will present a live edition of The Kelly File followed by a special live edition of The Five at midnight. Live coverage will extend from 1AM-4AM/ET led by co-anchors Eric Shawn and Heather Childers. Additionally, FNC's Bill Hemmer and Martha MacCallum will cover the exit poll data and results in the key counties and states. Finally, the Campaign Cowboys including FOX News Sunday's Chris Wallace, FNC contributors Karl Rove and Joe Trippi will also provide analysis throughout the evening.
CNN will broadcast American's Choice 2016: Super Tuesday beginning at 9 a.m. ET with continuing coverage in the evening until 2 a.m. ET.
On MSNBC, Morning Joe will air up until 9 a.m. ET followed immediately by The Place for Politics. Network anchors and personalities will deliver primary and caucus results throughout the night with reaction and analysis.
— —
Watch live results below (when available), via ABC News:

ABC Breaking News | Latest News Videos
Watch live results below (when available), via NBC News:
Have a tip we should know? tips@mediaite.com