WATCH: New Pro-Gun Control PSA Puts The Second Amendment In Sharp Perspective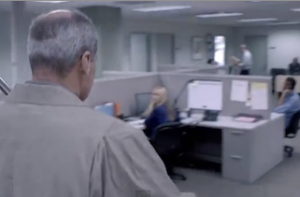 In the wake of the Boston Marathon bombings, the gun control debate has been quickly moved to the margins. With President Obama, members of Congress and the national media fully focused on the attack and its aftermath, it's easy to forget how much the gun issue was set to dominate the news narrative this week.
The justifiable shift in priorities will likely pull attention away from this powerful new PSA ad, released by the non-profit organization States United To Prevent Gun Violence, but for anyone invested in the fight over new gun laws, it is a must-see.
Without giving too much away, the 30-second ad uses a terrifying workplace shooting scenario to make the case for updating the country's "antiquated" gun laws. While not explicitly denouncing the Second Amendment, the group is making the point that a lot has changed since the founders declared that Americans have a "right to bear arms." In half a minute, the PSA compellingly sums up what many pro-gun control advocates have been arguing in favor of for decades.
While most of the country attempts to process the Boston bombings, Senators Joe Manchin III (D-WV) and Pat Toomey (R-PA) are still trying to figure out how to move their background checks compromise through the Senate, weighing revisions that could help get enough of their colleagues on board. And that legislation would not even address the larger issues evoked in this ad.
Before the nation's attention shifted yesterday, modest gun violence prevention legislation looked possible, but not ensured. Without added pressure on the issue from the media and constituents, it looks even less likely to pass. It's difficult to focus on the previous tragedy when the latest one is so fresh in people's minds. But this 30-second video could help remind everyone why the gun issue is still as important as ever.
Watch video below, via YouTube:
(h/t Death + Taxes)
—
>> Follow Matt Wilstein (@TheMattWilstein) on Twitter
Have a tip we should know? tips@mediaite.com