Redstate And Fox News' Erick Erickson Decimates The 'Obama Refuses To Say Terrorism' Idiocy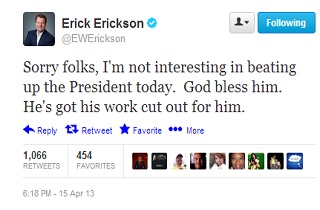 The aftermath of horrific tragedy often provides the unwelcome opportunity for the rest of us to see the truly awful in some of our fellow human beings, but amid the sea of pettiness that is the right-wing obsession with making President Obama say "Candyman!" three times, or whatever it is they think he needs to say, one influential conservative stood against the tide of Breitbart.com editors and writers who can only experience human emotion after hearing the words "act of terror" (while fapping in a leather swing? I'm just asking). Redstate chief and Fox News contributor Erick Erickson, in the moments after the bombing, served his Breitbartian mates a Twitterific glass of Shaddupyouface, on the rocks.
In the hours following the bombing, Erickson tweeted to his followers, "Sorry folks, I'm not interesting in beating up the President today. God bless him. He's got his work cut out for him," and shortly thereafter, added "A reminder to Christians on the right on days like this: pray not just for Boston, but for the President & his team too. 1 Tim. 2:1-4"
Here's the Bible passage he was referencing:
2:1 I exhort therefore, that, first of all, supplications, prayers, intercessions, and giving of thanks, be made for all men;

2 For kings, and for all that are in authority; that we may lead a quiet and peaceable life in all godliness and honesty.

3 For this is good and acceptable in the sight of God our Saviour;

4 Who will have all men to be saved, and to come unto the knowledge of the truth.
Erickson took to the pages of his blog later, at which point I was sure he would weaken, but he didn't. He doubled-down on decency:
We can speculate. We can call it terrorism. But for now we really do not know who or why or even how, just the what and the where. As partisan sides go, both sides will try to find some ground on which to score political points. That is what partisans do these days. It does not matter whether it is right or wrong. It happens. Some on the left rushed out of the gate to blame supposed right wing extremists. It was, after all, tax day. The right went straight to muslim extremists.

But we do not know who did it yet or why.

What we do know is that the President, when he first addressed it, did not call it "terrorism," as if he must offer up the word as some salve or recognition for horror and terror. It is clear from the look on his face he knows the horror. He knows the terror. The word has become a shibboleth for some. At times like this though, does it really matter? It was a horrifying, monstrous act of terrorism whether the word is used or not.

Multiple bombs, multiple dead, many wounded, that is the reality we are all confronted with regardless of party or politics. Today, pray for Boston. Pray for the victims, their loved ones, and the first responders.

Pray also for the President of the United States and his team of advisors who must now find out who did this and take action.
He then quoted that scripture again, although he used the NIV translation, which, in my church, would've been like reading aloud from Hustler, but I'll let it go in this case.
Erick Erickson, love him or hate him, is not an influential conservative because he's a squishy moderate. On any given day, he is as right-wing as a hawk with a torn left rotator cuff. If he can get past this idiocy, surely there is hope for us all.
Have a tip we should know? tips@mediaite.com