Watch the Awful Moment Steve Harvey Announced the Wrong Miss Universe Winner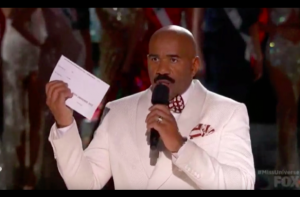 Comedian Steve Harvey was tasked with hosting the 2015 Miss Universe pageant on Sunday night in Las Vegas. Harvey served as MC for several hours over the course of the night; unfortunately for the veteran of stage and television, the most important moment of the event — the revelation of the winner — was not as smooth as everything that came before it.
At first it seemed as if everything was finally right with the world. After a contentious back-and-forth with former Miss Universe owner Donald Trump this year (not to mention a different pageant controversy surrounding the removal of Miss Puerto Rico from Miss America), Sunday's announcement of Miss Colombia as the winner should have been the perfect end.
With the two on-stage finalists standing together facing their destinies, host Harvey dramatically announced, "Miss Universe 2015 is… Colombia!" The only issue?
Miss Philippines was actually the winner, Harvey had to apologize, poor Miss Colombia had the crown actually removed from her head, and the night was utterly ruined. Really no big deal. Watch the incredibly awkward exchange below from the Associated Press:
To add Trump insult in injury, there should be no surprise that within hours the real estate mogul had taken to Twitter to share his exactly thoughts.
"@drdoucette: #MissUniverse DonaldTrump must be overjoyed that as soon as he sells the pageant it goes off the rails. We need you Mr Trump

— Donald J. Trump (@realDonaldTrump) December 21, 2015
Harvey spent the night largely communicating with people on Twitter who had offered the funnyman their support for the gaffe, which Harvey took personal responsibility for.
I'd like to apologize wholeheartedly to Miss Colombia & Miss Philippines for my huge mistake. I feel terrible.

— Steve Harvey (@IAmSteveHarvey) December 21, 2015
Secondly, I'd like to apologize to the viewers at that I disappointed as well. Again it was an honest mistake.

— Steve Harvey (@IAmSteveHarvey) December 21, 2015
I don't want to take away from this amazing night and pageant. As well as the wonderful contestants. They were all amazing. — Steve Harvey (@IAmSteveHarvey) December 21, 2015
[image via screengrab]
—
>> Follow J.D. Durkin on Twitter (@MediaiteJD)
Have a tip we should know? tips@mediaite.com