Watch Tom Hanks' Amazing Tribute to Denzel Washington Earning the Cecil B. DeMille Award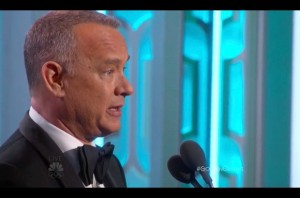 Sunday night's Golden Globes telecast is making headlines this morning for a variety of reasons (most of them revolve around host Ricky Gervais, let's be honest) but it was the presentation of the Cecil B. DeMille Award that have many people talking today.
Hollywood veteran Denzel Washington was the recipient of the 2016 award, and his longtime friend Tom Hanks introduced Washington and spoke to his contributions to the film industry over his storied career. Hanks began, "Every generation of filmgoers finds him or her, the artist that defines the time we all live in. As the credits are added to IMDB, so, too, is the power of their persona and personal taste, their learned craft and their instinctive talent, their obvious abilities and the mysterious power they have to not just hold our attention, but demand it."
Hanks spoke to the long lineage of Hollywood greats who have earned a simple single-name distinction for their work, those who, "need only one name to conjure the gestalt of their artistry. Women like Garbo, Hepburn, Stanwyck, Loren, men like Bogart, Cagney, [and] Gable."
Hanks continued to honor his friend, telling the gathered crowd, "The cliche, 'the list goes on and on' doesn't apply here, because it doesn't. The list is finite. The club is exclusive, but it includes the actor who is being given the Cecil B. DeMille award tonight." Hanks' speech rolled into a montage of some of Washington's greatest performances before he and his family took the stage to receive the award.
Check out the above video from NBC.
[image via screengrab]
—
>> Follow J.D. Durkin on Twitter (@MediaiteJD)
Have a tip we should know? tips@mediaite.com