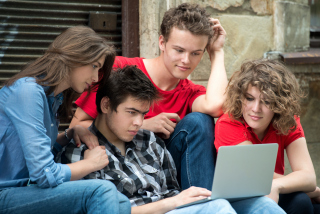 Think about the technology and internet habits of teenagers and what comes to mind? Besides a incessant deluge of selfies and sexting that is? You might expect a few familiar suspects at the top of the list –- Facebook, YouTube, Instagram –- and you'd be right, but the landscape of the contemporary teen's browsing habits aren't quite as easy to put a finger on as you might expect. At least according to a new survey by Niche, a site that helps students and families make decisions about prospective schools.
They conducted a survey of 7,000 recent high school graduates from the class of 2014 (that's just depressing to read right there), and asked them which of a list of 50 websites and apps they used, and how frequently. This is important data to sift through for media and technology companies everywhere, because young people are the future of the world and so on and so forth, but also the future of where your money stream is going to be flowing in from.
Among the most firm of their findings, it turns out that the death of Facebook has been widely exaggerated, they say. "While some media outlets have reported teens tiring of Facebook in favor of whatever is the latest craze, Facebook still reigns number one in both total adoption and daily usage." 61% of those who responded use the service every day, while 87% report having used it, most likely to share some phony viral nonsense I'm guessing. 55% report using YouTube every day, with 97% having at some point. 66% have used Instagram, while 51% use it daily.
So far, so reasonably intuitive. Also unsurprising: 92% don't use LinkedIn. (Maybe because a high schooler can't masturbate to it? I mean, you could, but it would be incredibly difficult.)
Perhaps the biggest takeaway, as The Atlantic points out, is just how minuscule website use seems to be compared to apps.
73% of teens surveyed here don't read BuzzFeed (the holy grail of viral kidz content), 96% don't read Gawker or Mashable, and 84% don't read Reddit, which is probably the only bit of data I've seen in a long time that fills me with any sort of sense of optimism about the future. The kids, it turns out, are alright.
Then again it could just mean that kids don't read anything at all. Never mind, back to being depressed.
What they're doing instead, it turns out, is listening to music, watching movies, and – gasp! – talking to one another, and not just posting an endless stream of gilded GIFs, thinspo images, and porn to their Tumblrs; weirdly, 66% reported not using Tumblr at all. Everything we know about the kids is wrong.
Pandora was the most popular media streaming service in the responses, while iTunes and Netflix were close behind. Only 14% reported using Spotify daily.
As Niche concludes, regardless of specific usage, the juggling amongst apps is undeniable. "Out of 50 apps and websites in the survey, 13 apps are used by more than half of all students, and a majority of those users are logging in daily, many multiple times per day."
That means competition is going to continue to be brutal going forward. But there could be a solution sometime in the near future. All you'll have to do is devise an app that lets teens send anonymous selfies of themselves in music form to a site where they can share it with the world then bully and shame each other over how bad it is. Don't steal that idea actually, I'm going to be rich.
[Image via Shutterstock]
— —
>> Luke O'Neil is a journalist and blogger in Boston. Follow him on Twitter (@lukeoneil47).
Have a tip we should know? tips@mediaite.com