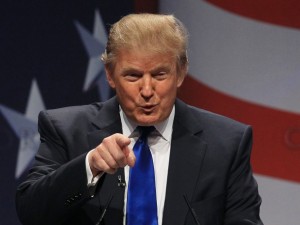 It appears that Trump fatigue has not yet set in, at least with likely voters in the GOP primary according to independent polling company Rasmussen Reports. Worth nothing that the poll was conducted before Barack Obama's somewhat shocking revelation that he was in fact born in the United States (and the subsequent anti-Trump teeth gnashing by pundits of all stripes.) Nonetheless, should anyone be surprised that such a naked ploy for attention has led to the top of the polls?
RasmussenReports.com explains:
Republican primary voters at this early stage of the game now give billionaire developer Donald Trump the edge over presumptive favorites Mitt Romney and Mike Huckabee in the race to be the GOP's presidential nominee in 2012.

A new Rasmussen Reports national telephone survey of Likely Republican Primary Voters finds Trump with 19% support, just ahead of the former governors, Massachusetts' Romney at 17% and Arkansas' Huckabee with 15%. (To see survey question wording, click here.)

Former Alaska Governor Sarah Palin and ex-House Speaker Newt Gingrich are tied for fourth place with nine percent (9%) each, closely followed by Texas Congressman Ron Paul at eight percent (8%). Rounding out the list are former Minnesota Governor Tim Pawlenty (5%) and Mitch Daniels, the current governor of Indiana, at three percent (3%). Five percent (5%) like some other candidate, and 11% are undecided when presented with this list of candidates.

In January, before Trump began making noises about seeking the GOP nomination, Romney led the pack among likely primary voters with 24% support, followed by Palin (19%), Huckabee (17%) and Gingrich (11%).
One wonders if these poll results would be much different if it were conducted after yesterday's media circus. Either way, these results are sure to be seen by many as a rather strong indictment of the GOP presidential field. Perhaps recent news will benefit the presidential aspirations by more "conservative" candidates like Tim Pawlenty? Only time will tell.
Read the entire write-up at Rasmussen Reports (H/T DailyCaller.)
Have a tip we should know? tips@mediaite.com