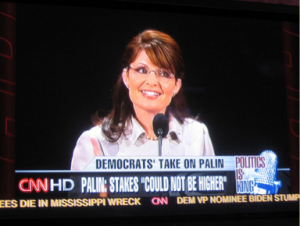 Two years ago Glynnis MacNicol, Steve Krakauer and I — all working for different organizations back then — had just wrapped up two weeks in Denver and/or Minneapolis for the Democratic and then the Republican National Convention. Obama had blown the roof of Invesco Field, and the Sarah Palin blew the roof off that with her nomination and killer speech (and made me blow a gasket). Looking through a gallery of pictures from that time, it all seemed so long ago, like from another era. Two years ago, no one could have predicted that, as between Obama and Sarah Palin, it would be the latter who would dominate on Facebook and Twitter (remember how avante-garde it was for not-yet-President Barack Obama to announce his selection of Joe Biden as VP via text message? Back then it seemed like a BFD). Come to think of it, everything seems different now except for Sarah Palin – looking at her blithely making that speech, blaming the media for being mean to her even when she refused to sit for a Sunday morning show (she still hasn't), or any interview (except for Fox and Oprah, has she since Katie Couric?). Her demeanor has been pretty unshakable through these last 2 years – you can say one thing for Sarah Palin that you can't say for Obama – with her, you know exactly what you are going to get.
For the rest of us, these last two years have been anything but. It's not any one photo that gets me — journos still have to go places and cover things — it's more the sense that all the people in these photos were living the last days of the old media world. The free-flowing food at the CNN Grill, the big budgets to bring networks and correspondents and support staff and everyone you could get a lanyard on out on location. This was barely 2 weeks before the economy bottomed out in mid-September 2008 — and everything changed from there on in, economically and for the media world, as well as in the world being covered with the election of Barack Obama as the 44th president and the smooth, seamless presidency he's had since then. Oh wait, I mean the opposite. Anyhow, that time was really exciting and fun and it was a nice little trip down memory lane to look through these photos, even though I can't imagine how different it will be in 2012. Which seemed so far away back then, and now, well, doesn't. So, go crazy! Here is the link. I recommend clicking the "slideshow" function and putting on trippy music in the background, wooo!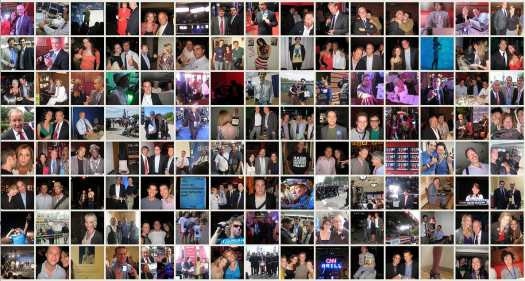 Google alert bait: These photos include any and all of the following— in no particular order:  Joe Scarborough, Joe Klein, Mika Brzezinski, Arianna Huffington, Jake Weisberg, Dana Milbank, Luke Russert, Kevin Madden, Mark Salter, Ana Marie Cox, Jon Klein, Anderson Cooper, Rick Stengel, Mary Katherine Ham, Chuck Todd, Betsy Fischer, Trent Lott, John Roberts, Laura Ingraham, Jonah Goldberg, Patrick Gavin, Rick Klein, Tucker Carlson, Amy Argetsinger, Norah O'Donnell, Pat Buchanan, Ryan Lizza, Joel Stein, Walter Isaacson, Courtney Hazlett, Keli Goff, Chris Cillizza, Mike Isikoff, Alan Cumming, Jason Jones, Samantha Power, Cass Sunstein, Carly Fiorina, Larry Page, Henry Kissinger, Dan Abrams, Jane Hamsher, Chad Hurley, Jon Hamm, John Dickerson, Obama Girl, Chris Licht, Ray Roker, Ari Melber, Josh Green, Joan Walsh, Ron Brownstein, Matt Cooper, Fred Armisen, will.i.am, Markos Moulitsas, Chevy Chase, Tammy Haddad, Lynn Sweet, Karen Tumulty, Ben Smith, John Oliver, Karl Rove, David Carr, Kathleen Sebelius, Eugene Mirman, Sammy Hagar, Rahm Emanuel, John Koblin, Danny Shea, Michael Calderone, Ana Marie Cox, Carly Fiorina, Katie Couric, Peggy Noonan and various people eating free food at the CNN Grill. Oh, CNN Grill. I think I'll miss you the most of all.
PHOTOGALLERY: 2008 CONVENTIONS
Have a tip we should know? tips@mediaite.com