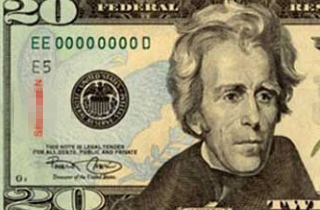 Slate writer Jillian Keenan is trying to exact change on that $20 note in your pocket.
In a March 3rd article entitled "Kick Andrew Jackson Off the $20 Bill!" Keenan prints an insightful argument for circulation that vilifies the seventh President's presence in America's wallet and cash registers: "Andrew Jackson engineered a genocide. He shouldn't be on our currency," she writes.

Keegan cites Jackson's early work as slave trader and his presidential pursuit of "Indian Removal" policies that forced "at least 46,000 Cherokees, Choctaws, Muscogee-Creeks, Chickasaws, and Seminoles off their ancestral lands," according to Keenan.
While Keenan's campaign might not see top billing in an uncomfortably divided Congress, the Slate writer's follow-up question is gold: Who should replace Andrew Jackson? Keenan rightfully submits Harriet Tubman and Frederick Douglass as potential nominees. And this very scribe envisions a twenty spot with the likeness of underrepresented, intellectual heroes such as Thomas Paine, Clara Barton, Booker T. Washington, Jonas Salk, and Henry Clay—the great compromiser (Hey, remember that word?).
But why must currency pay respect to the "who" rather than the "what, when, where, and why?" Iconic images of plurality should define a country that boasts so many invisible and hard-working heroes. Here are a few.
First responders raise the American Flag:
A line of immigrants prepare to reach American soil at Ellis Island:
American soldiers, protecting the very concept of freedom and humanity, storm the beaches of Normandy:
Furthermore, why can't this paper money problem be solved democratically? Let Congress approve a list of candidates. Have classrooms around America learn and petition for said possibilities on public broadcasting. Next to a 2016 ballot that may include Chris Christie, Hillary Clinton, and the defiant Dennis Kucinich/Ron Paul-like candidates, offer voters a history lesson as to the actual costs of heroism and leadership.
More suggestions for images and faces alike are welcome. Take your money back, people — it's worth it.
[Images via London Center/Scholastic/National Infantry Museum/Commerce Dept.]
— —
>> Clark Young is, above all things, a Mainer and Red Sox fan. Follow him on Twitter here.
Have a tip we should know? tips@mediaite.com